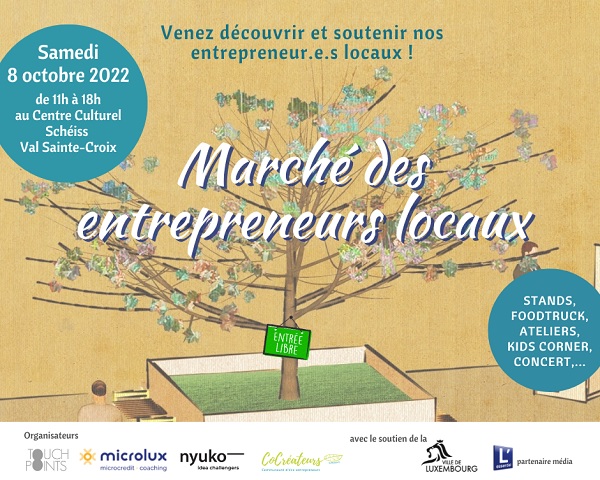 Microlux has announced its Local Entrepreneurs Market that it is holding this coming Saturday 8 October 2022 from 11:00 - 18:00 at the Centre Culturel Schéiss at the Val St Croix in Luxembourg city, in collaboration with nyuko, Co-creators (REconomy) and Touchpoints.
The organisers are united by their mission to support and promote local entrepreneurs.
Around forty stands with multicultural colours will offer a wide range of products, including clothing, jewellery, handcrafts, decoration, vintage, tarot games, books, cosmetics, upcycling, collectible figurines, musical instruments, kitchen items, etc. In addition, there will be a "Kids' Corner" and a "Food corner" with food trucks, burgers, world cuisine, pastries, coffee, local crémant, organic wines, etc.
The festive atmosphere of the market will be provided by musical interludes throughout the day. At the same time, several workshops will take place where members of the public can learn about embroidery, cooking, graphic design, personal development, etc.
Free entry. Further details at https://www.eventbrite.fr/e/billets-marche-des-entrepreneurs-locaux-389189324747