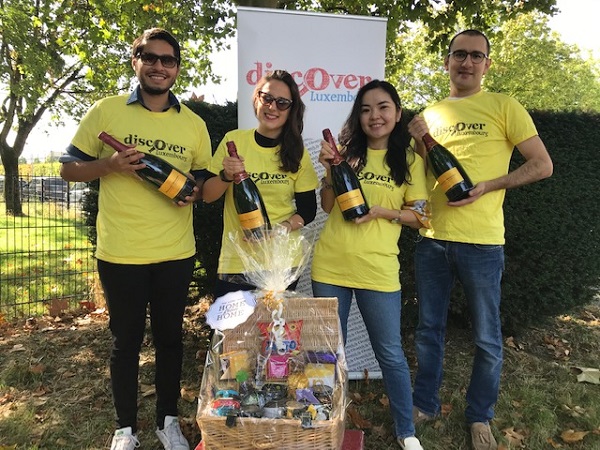 Discover Luxembourg 2021 winners: Belairians; Credit: Discover Luxembourg
The 14th Discover Luxembourg event, organised by G-Media Sàrl, will take place on Saturday 10 September 2022.
Discover Luxembourg is an event where teams of four people follow (by foot) a course through Luxembourg City and, along the way, participate in challenges at Event Stations, answer observation questions, take selfies at certain landmarks and discover something new about Luxembourg (culture, history, gastronomy and technology).
This year's event is being organised in a similar way to last year's, in that the award of the "Maillot Jaune" to the winning team will take place separate to the event, afterwards, to ensure that many people do not congregate together; as a result, teams will be finished earlier and do not have to wait around for all other teams to finish; all teams will collect team prizes at the end, when refreshments will be available for all.
The event will start in Luxembourg city centre (exact location to be confirmed) and it will finish at the Parc Mansfeld in Luxembourg-Clausen. It will be less than 8km in length.
The total number of teams is limited to 50 again this year.
Station Sponsors include LEO / Enovos, Vodafone Procurement, Banque Raiffeisen and Home from Home.
Whilst there is no Event Partner this year, meaning that no T-shirts will be provided to teams, all participating teams this year are encouraged to wear their own T-shirts; one possibility could be for those who have participated in a previous Discover Luxembourg event to wear the T-shirts from that event.
The charity supported this year is the Fondation Follereau Luxembourg, a local non-profit organisation committed to the promotion of the quality of life of the most vulnerable African communities.
To register, visit: https://www.discover-lux.lu/. Videos and photos of past events are also available on this website.