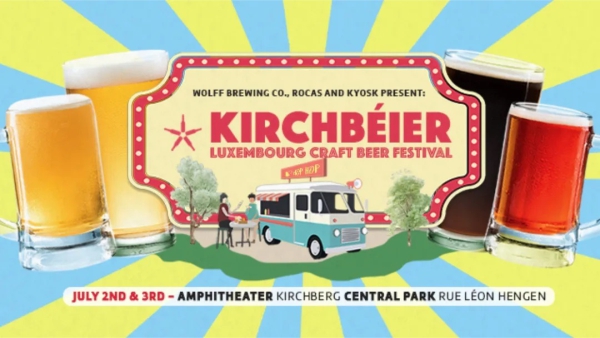 After a two-year break due to pandemic related health measures, the fourth edition of the Luxembourgish festival devoted exclusively to craft beer, the Kirchbéier Craft Beer Festival, will be taking place on Saturday 2 and Sunday 3 July 2022, at Central Park's Amphitheater in Luxembourg-Kirchberg.
The passion for craft beer has given rise to the Kirchbéier Craft Beer Festival in Luxembourg, where 20 international and local brewers will come to share this passion and present their new creations. The organisation of the 2022 edition is headed by Joe from Wolff Brewing Co, David from Rocas and Manu from Kyosk.
"Diversity of taste, colour, sound and texture are on the menu. We want to promote the craft beer scene in Luxembourg as well as small producers and entrepreneurs through this festival," explained Joseph (Joe) Hallack-Wolff, founder of Wolff Brewing Co.
Alongside Wolff Brewing Co, Luxembourg will be represented by the breweries Satori brewing and Totenhopfen. Breweries from France (Brasserie trois mats and Piggy brewing), Belgium (Rulles, Brasserie du Soquet, Misery Co, Brasserie de Blaugies and Arel Brewing), Denmark (Dry and Bitter Brewery, Amager Bryghus and Gamma Brewing), Estonia (Pühaste Brewery and Sori Brewing), Portugal (Cerveja Letra), the Netherlands (Brouwerij Kees), United States (Stone Brewing) and Germany (Sudden Death Brewery) will also be present, as well as a Japanese brewery which will present the craft beer, Hitachino.
This year, people will be able to discover a food court organised by Manu, Manager of Kyosk, an art exhibition organised by David, owner of Rocas and Sarah Mandres, and DJs playing Craft Tunes.
Entrance to the venue cost €10 (free entrance for children under 16) which includes a festival glass and a Craft Beer tasting voucher, and available online via: https://xceed.me/luxembourg/event/kirchbeier-craft-beer-festival--105673/channel--wolff-brewing-co.