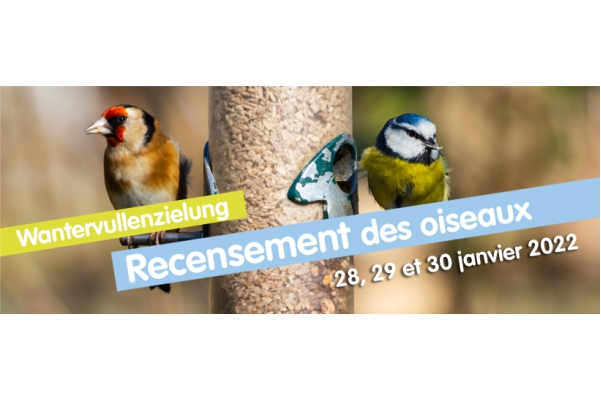 Credit: natur&ëmwelt
This year again, natur&ëmwelt has announced that it is inviting members of the public across the Grand Duchy to take part in the annual winter bird count, which will take place on Friday 28, Saturday 29 and Sunday 30 January 2022, with participants standing a chance of winning a prize.
Participants are invited to take an hour of one's choice during the upcoming weekend to observe and count the birds visiting one's garden or balcony, and to note the different species visiting as well as counting the number of each species. To communicate one's results, participants are invited to use the online report form (which includes counting instructions and a picture catalogue of the most common bird species in winter) under www.naturemwelt.lu
The main focus of the winter bird count is on common bird species in Luxembourg's gardens. The annual census allows natur&ëmwelt to establish population trends, such as growth or decline, of the most common bird species over the years. To enable school classes to participate in the campaign, natur&ëmwelt has decided to start the 16th edition of the winter bird count one day earlier, i.e. on a Friday instead of on a Saturday.
In 2021, the great tit was observed in 82% of gardens in Luxembourg during the weekend of the bird count, making it the most common species, closely followed by the blackbird which was observed in 80% of gardens. Other species that have been frequently observed were the house sparrow (75%), the blue tit (75%) and the robin (69%). As in previous years, house sparrows were the most numerous, with a total of 6,712 individuals.
At the end of the campaign, ten winners will be drawn. The deadline for participation (submitting reports) is 11 February 2022.