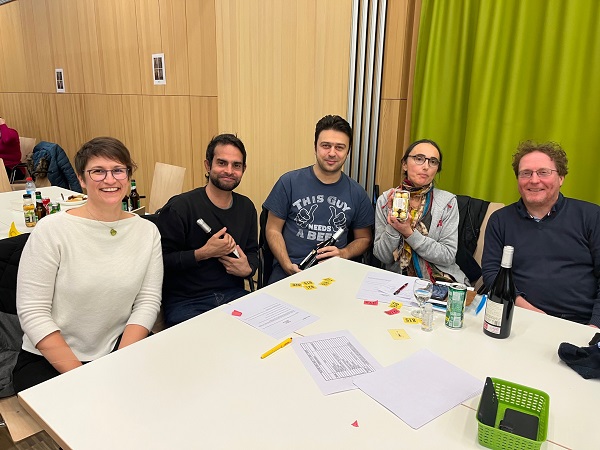 The B-Team quiz team; Credit: Geoffrey Thompson
On Friday 21 January 2022, Telstar scouts held a Table Quiz at the FNEL scouting headquarters in Luxembourg-Cents, the first such community social event since before the first COVID-19 lockdown in March 2020.
With a total of fourteen teams (each of up to six people) competing, the organisers did a great job in encouraging participants to dust off the lockdown cobwebs and look forward to exercising their memory cells.
All answers were written and all team members could confer and every question, asked by quizmasters Barry Magee and Steve Atkinson. There were ten rounds of eight questions, with two joker rounds per team, on which they could score double points, resulting on a maximum potential of 96 points. The round topics were not the standard "geography" and "sports", etc., instead being "Where in the world", "Odds 'n' Sods" and "The 'Corona is more than a virus' Round" to keep everyone on their toes.
The questions were challenging as always but, with six brains on each team pooling their grey cells, the answers were flowing. Some of the more interesting questions included Kanye West's new name ("Ye"), Taylor Swift being known as T-Swizzle and one which stumped many on the evening: What is the name of the murder victim in the Cluedo board game? (Answer: Dr Black (UK version); Mr Boddy (US version)). The three European Capitals of Culture 2022 were asked for (Esch-sur-Alzette; Kaunas; Novisad), and so was Facebook's new corporate name (Meta). In the Luxembourg round, one of the questions asked for the name of the supercomputer (answer: Meluxina).
It went off with everyone enjoying being out again in a social setting, yet still being cautious at the same time. There was a great ambience throughout, with plenty of space between tables (which were double-sized to create more space), with the only downside being the audio issues at times, despite a PA system being used.
The B-Team won overall with 72 points, not relinquishing their half-time lead. Second were the Sixes and Sevens (68 points), just pipping the Banana Republicans who finished on 67 points.
For Telstar, it was very much a team effort, with Nick Frank and Cassandra Ellis coordinating the event, Beverly Atkinson coordinating things on the floor, a number of uniformed scouts acting as runners between tables and scorers checking the answers. Others oversaw the CovidCheck desk, the registration desk and refreshment ticket sales.
The bar was open throughout and the scouts also provided hot chilli, sandwiches and cake. There was also a tombola (raffle) with many prizes, the top one being a scooter.
In total, a little over €1,000 was raised from the event.
After the team presentations, Rani Roloff, Group Scout Leader at Telstar (she also heads the British Scouting Overseas (BSO) group in Luxembourg), presented a number of long-service awards:
Beverley ATKINSON (Chief Scout's 40 years' Service Award)
Karen MCEWAN (25 years' Service Award)
Derek CLIFFORD (30 years' Service Award)
Martin HOOD (20 years' Service Award)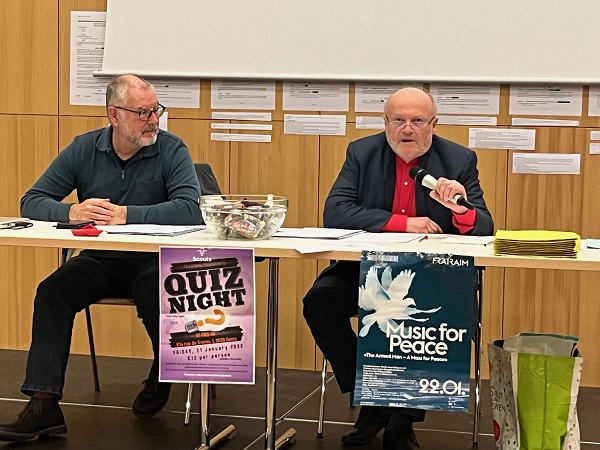 (L-R): Barry Magee, Steve Atkinson