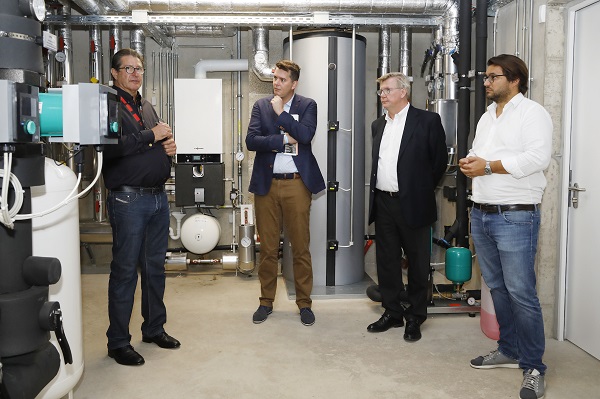 (Above) L-R: Nico Biever, Genista; Lex Delles, Luxembourg's Minister for SMEs; Gilles Reinert, Genista; Alain Wildanger, Genista; (below) Luxlait open day visitors; Credit: brain&more
The 15th edition of Luxembourg Open Days (Journées Portes Ouvertes), organised by communications agency brain&more, attracted over 17,000 visitors over the weekend.
The event, which took place under the CovidCheck regime, saw 23 companies of all sizes and sectors open their doors, on eighteen different sites, to more than 17,000 visitors. Among the most visited establishments this year were Luxlait in Roost, ArcelorMittal in Bissen, Agri-Distribution in Noerdange, Grosbusch in Ellange, Ramborn Cider Co. in Born and the University of Luxembourg in Kirchberg and Limpertsberg.
Each year, the Open Days, held under the patronage of the General Directorate for Small and Medium-Sized Enterprises of Luxembourg's Ministry of the Economy, offers interested individuals and families a unique opportunity to take a look behind the scenes of companies, organisations and factories across the Grand Duchy. Since 2006, around 295,400 visitors have been able to discover the talents of the Luxembourg economy through this event.
Luxembourg's Minister for Small and Medium-Sized Enterprises, Lex Delles, actively supported the initiative this year by visiting the heating contractor Genista in Fentange on Sunday.
Following their continued success, a new edition of Luxembourg Open Days will take place on 17 and 18 September 2022. Interested companies can already contact brain&more (tel.: 268471-1 / website: www.brain.lu) for further information.