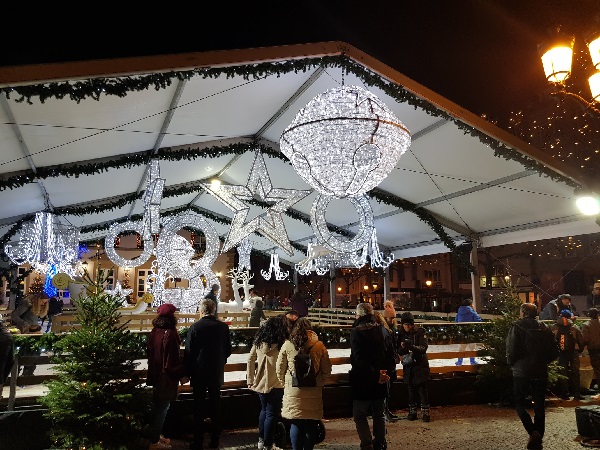 Christmas Markets in Place Guillaume II, 2019; Credit: Jazmin Campbell
The City of Luxembourg will be switching on its Christmas lights today, Friday 20 November 2020, adding a touch of festive cheer to the capital despite the cancellation of this year's Winterlights programme due to the COVID-19 pandemic.
Whilst there will be no Christmas markets, ice rink or other traditional end-of-year festivities, the capital will be plunged into a festive atmosphere all the while respecting the health measures in force.
The Christmas light switch-on will mark the beginning of the festive season in Luxembourg City. From Friday 20 November 2020 until Sunday 10 January 2021, the end-of-year illumination will decorate the streets and squares of the capital, every day from 06:00 until midnight.
Highlights this year include a giant heart-shaped arch (12 metres wide, 8 metres high) in Place d'Armes, a 10-metre-tall royal fir decorated with bright hearts in Hamilius and a "Péckvillercher" (small terracotta bird sold during the Emaischen festival) in the old town around Rue Sigefroi. Avenue de la Liberté will be lit up with glittering firefly garlands installed in the newly planted trees. Last year's novelties, namely the advent calendar in Hamilius will move to the Place du Théâtre and will be lit up every day from 1 to 24 December 2020 between 17:00 and 21:00 on the hour. The tree light show will once again make the trees in Place d'Armes shine for one to two minutes daily, every half hour between 17:30 and 21:00. In total, 1,328 decorations will light up the capital.
In addition, Sunday Shopping will allow residents and visitors to Luxembourg City to do their Christmas shopping on Sundays 22 and 29 November and 6, 13 and 20 December 2020, when stores will be open exceptionally from 14:00 to 18:00. A lst of participating stores and opening hours is available at www.cityshopping.lu.
During the Christmas period, the public will also have the opportunity to discover a diverse programme of theatrical performances, concerts, exhibitions and films. Various shows and screenings will be put on at the Théâtres de la Ville, Grand Théâtre, Théâtre des Capucins and the Cinémathèque.
The capital's museums will also get into the festive mood, with Villa Vauban transforming into "Villa Noël" and Lëtzebuerg City Museum becoming a "Winter Wonderland". From 5 December 2020 to 3 January 2021, both museums will be offering a special programme for all ages, including workshops for families and readings, both on site and online. These activities are in addition to current exhibitions and guided tours. For further information, visit www.villavauban.lu and www.citymuseum.lu.
At Cercle Cité, the CeCiL's BOX "Pillars of the Earth" exhibition by Julie Wagner will run until 17 January 2021.
The Conservatoire de la Ville de Luxembourg will also be putting on a series of (sold-out) Christmas concerts, as well as a Beethoven concert on 8 December 2020 at 19:00 (tickets available from www.conservatoire.lu).
Moreover, the Luxembourg City Tourist Office (LCTO) is organising tailor-made guided tours with a private guide for groups of up to eight people during the Christmas period. Further information is available at luxembourg-city.com.
Finally, Christmas trees will be on sale from 24 November until 24 December 2020 at the following locations: Rue du Fort Elisabeth / Place Jean Heinisch; Place Léon XIII, Bonnevoie; Champ du Glacis; at the entrance of Parc de Merl, Boulevard Pierre Dupong.