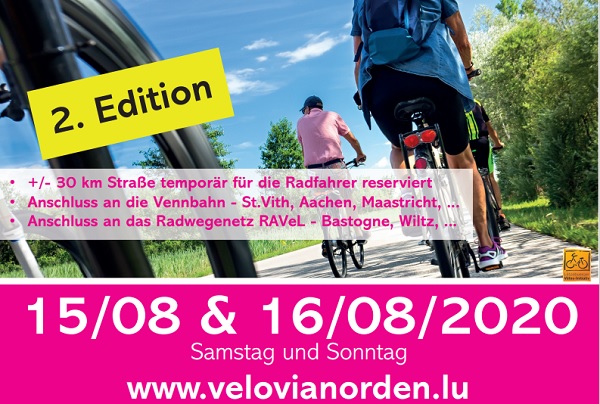 As part of the "Vëlosummer 2020" announced by Luxembourg's Ministry of Tourism to take place during August 2020, the municipalities of Kiischpelt (east of Wiltz), Clervaux, Weiswampach and Troisvierges have set up the "VëloViaNorden" initiative.
This initiative, which reserves a road section of approximately 30 km for cyclists, experienced great success in its first edition over the weekend of 1-2 August; as a result, the municipalities are inviting cycle enthusiasts to a second edition to come and discover the Luxembourg Ardennes on Saturday 15 and Sunday 16 August.
According to the VëloViaNorden: The north of the Grand Duchy is the perfect destination for a two-wheeled getaway. Take advantage of the 2nd VëloViaNorden edition and discover the "temporary" cycle path which welcomes cyclists, young and old, going from Enscherange through the centre of Clervaux, continuing to Weiswampach, passing by the lake arriving in Wilwerdange and making the connection with the famous Vennbahn in Huldange. Around 30 km of roads will be closed to motorised traffic over the two days. The circulation of buses and local residents will nevertheless still be authorised, which implies reminding that cyclists as well as motorists must respect the Highway Code throughout the length of the journey.
This exceptional route undoubtedly presents an additional tourist asset for the beautiful Eislek region. Residents as well as tourists have the possibility of discovering the north of Luxembourg by bicycle while taking advantage of the Vennbahn or RAVel network as well as the three circuits "Gënzentour", "Panoramatour" and "Gardens to follow". Thanks to the connection of the northern tip of the Grand Duchy to the international cycling network, excursions to the cities of Maastricht, Aachen and Saint-Vith will be easily possible.
Stops at the stations of Kautenbach, Wilwerwiltz, Drauffelt, Clervaux and Troisvierges, invite visitors to plan their day easily with an easy round trip according to their preferences. Stop off in the villages, book a table in advance at one of the restaurants along the route and spend a night in the surrounding hotels and campsites. A great opportunity at the same time to take advantage of the accommodation voucher offered by the Ministry of Tourism.
For full details, see www.velovianorden.lu to find out about all the possible offers, contacts for bicycle or ebikes rental included.