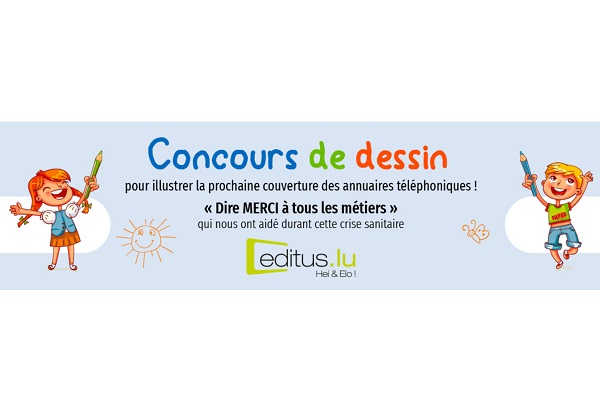 Editus Luxembourg has announced the launch of a drawing competition to thank all the professions that have enabled society to get through the COVID-19 health crisis.
The initiative aims to express gratitude to professionals such as doctors, police officers and mail carriers, as well as teachers, nurses and shopkeepers, among others, whose work has proven invaluable during this difficult period.
As such, Editus is organising a drawing competition to illustrate the next cover of its telephone directories. The competition will run from today, Thursday 11 June, until 3 July 2020 and is open to children aged 6 to 12 who reside in Luxembourg. The best designs will be chosen by a jury.
In addition to thanking these men and women who helped us during the COVID-19 crisis, the children who participate will see their most beautiful drawings published on the cover of telephone directories (edition 2021 - published in September 2020). They also have a chance of winning a creative batch of art material including colouring pencils, acrylic paint and oil pastels.
To participate, go to www.editus.lu/concours for all the details.