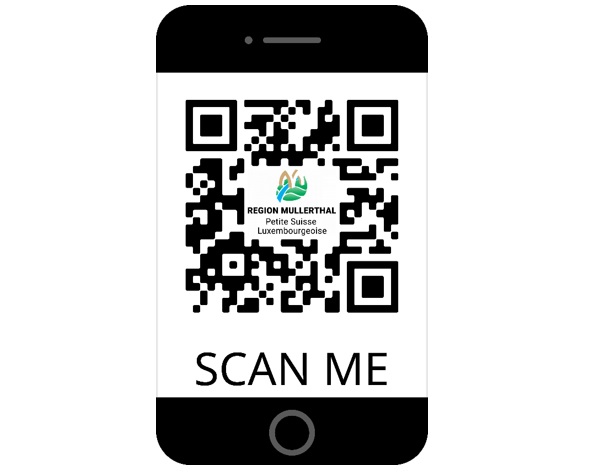 As part of the LEADER Tourist Info 2.0 project, the Regional Tourist Office for the Mullerthal Region - Luxembourg's Little Switzerland (ORT) - has been working for some time on the digitisation of its tourist offers and has now launched its new service, a geolocated series of information points with QR codes for visitors to access all information digitally and in four languages (German, French, English and Dutch).
This project has been carried out in collaboration with the 14 member municipalities and the 10 tourist information offices in the region. By making information available via electronic information terminals, customers can obtain information at any time on the tourist offer in the region, especially outside opening hours.
The content of these digital info points is geolocated. Visitors are offered sites, hiking suggestions, etc. based on the distance from their current location and can see at a glance which sites are currently open around the location. The content thus available is an exact reflection of the content of the ORT website
www.mullerthal.lu
and the local tourist information pages, as well as the offers of
www.visitluxembourg.com
. The management of this content is centralised by ORT for all players in the region.
As a result of collaboration with the provider Huber Media, they are now able to offer this same content directly on any mobile device such as smartphones and tablets.
By means of a QR code to be scanned or directly going to the URL
app.mullerthal.lu
, each visitor can display the content of the digital terminals on their own mobile device and thus have all the information on tourist sites, restaurants, accommodation possibilities, hiking trails, bike rides, etc. The content of Natur- & Geopark Mëllerdall is available in the same way.