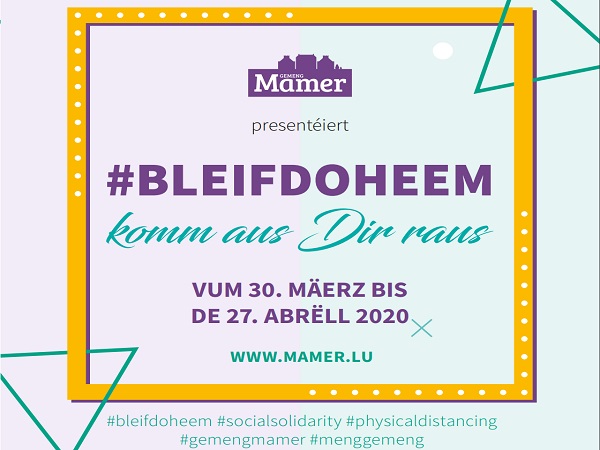 The Municipality of Mamer, in collaboration with the department for Equal Opportunities and the Commission for Equal Opportunities in Luxembourg, has presented its new "#Stay home - be creative" challenge, which runs from 30 March to 27 April 2020.
The challenge is open to all ages and residents and non-residents of the municipality alike. Participants are required to hand in different kinds of creative work (music, art, poetry, short video clip, etc.) to express their ideas and perspectives on one of the below subjects. The top three submissions (for each week) will be chosen by a jury and put online on all of the municipality's platforms. The submission with the most votes wins a prize.
The weekly subjects are:
30.03 – 06.04 Solidarity
06.04 – 13.04 Inclusion
13.04 – 20.04 Equality
20.04 – 27.04 My municipality
The weeks run as follows:
Monday to Thursday - Submissions
Friday to Sunday - Vote online on www.mamer.lu (voting open until 18:00 on Sunday)
Sunday evening - Winner announcement
Submissions should be made via email to
egalite@mamer.lu
. Further questions can also be sent to this address or via tel.: 691-313515. All projects regarding the challenge must be in accordance with the sanitary regulations implemented by the Luxembourg government.