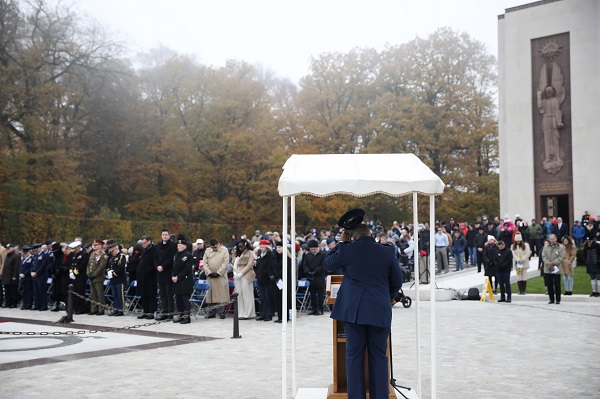 Invocation and Benediction by Lieutenant Colonel Ralph T. Elliott Jr., Wing Chaplain, 52nd Fighter Wing, USAF Spangdahlem; Credit: U.S. Embassy in Luxembourg
This year's Veterans Day ceremony was held at the Luxembourg American Military Cemetery & Memorial in Luxembourg-Hamm on Monday 11 November 2019.
Some 450 people braved the cold for this public commemorative event, organised by the American Battle Monuments Commission (ABMC) and supported this year by the U.S. Air Force Base in Spangdahlem, Germany. This year's guest speaker was Rear Admiral Matthew A. Zirkle, Chief of Staff, U.S. Naval Forces Europe/U.S. Naval Forces Africa/U.S. Sixth Fleet.
On Thursday, just a few days after the ceremony, the U.S. Embassy in Luxembourg issued the following statement:
"At the eleventh hour of the eleventh day of the eleventh month in 2019, 450 people came together in freezing temperatures with an 11 mile an hour wind and thick fog. There was no complaining even though those attending could barely feel their toes.
That was because everyone knew that those lying still at the Luxembourg American Cemetery had braved much more. Rear Admiral Matthew Zirkle spoke eloquently; the Navy band played stirringly; and regular Luxembourgers, Americans, and others paid tribute to both those who serve and those who have served.
Three fellow Ambassadors from Poland, Belgium, and Austria, along with Minister Lex Delles and Chief of Defen[c]e Alain Duschène stood shoulder to shoulder with those citizens to pay their respect. When Taps played, no other sound was heard. It was such a moment.
When a Rosette was placed on the Wall of Missing signifying the identification of a soldier whose remains had been located nearly 75 years later and returned to his family, heads turned to the skies with a thankful prayer. There are things that bring people together.
On behalf of the American people, and the nearly 5,000 buried on Luxembourg soil, thank you to every person who attended. The picture [...] says it all. Young and old; rich and poor; American and Luxembourger; all came together for one solemn purpose - to hono[u]r the sacrifice of others in the name of freedom.
450 people - it is the largest number in years and years. By coming, each of you made the kind of statement that needs to be made in these times: Freedom is not free.
Thank you to everyone committed to making sure this is never forgotten".