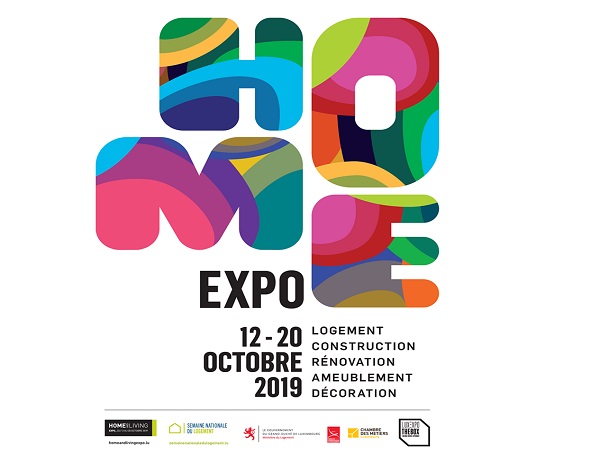 The 2019 edition of the Home Expo is taking place from Saturday 12 to Sunday 20 October at Luxexpo The Box.
Forming part of National Housing Week and as part of a collaboration between the Home & Living Expo, the Home Expo event will bring together over 200 exhibitors across 33,000 m² and over nine days at Luxexpo The Box.
The sixth edition of this popular fair will kick off this Saturday at 10:00 with the inauguration by Their Royal Highnesses the Hereditary Grand Duke and the Hereditary Grand Duchess. On this occasion, the newly appointed Minister of Housing, Henri Kox, will address guests just one day after taking office. The Minister for Small and Medium-Sized Enterprises and Tourism, Lex Delles, the First Alderman and Councillor of the Ville de Luxembourg, Serge Wilmes, and the President of the Board of Luxexpo The Box, Raymond Schadeck, will also deliver speeches in front of an audience that includes ambassadors, ministers, deputies, officials and representatives of the housing sector.
Visitors to the fair will once again find support from specialists willing to guide guests in their purchasing, renovation or development projects. Some 40 of the over 200 exhibitors have also announced a variety of special events, such as quizzes. For its part, the organiser, Luxexpo The Box, is offering visitors the chance to win a 65-inch Samsung Frame television.
In addition, this year will see extended opening hours during the week. To facilitate the arrival of all, including border workers, the show will open this year at noon on weekdays and closing times have been extended to 21:00 on Thursday and Friday evenings. As such, visitors can take advantage of their lunch break to get some inspiration. This year's opening hours are thus as follows: Saturdays and Sundays from 10:00-19:00, Monday to Wednesday from 12:00-20:00 and Thursdays and Fridays from 12:00-21:00.
Some 60 exhibitors will be present at the fair for the very first time. They will bring new categories of products and brands, such as equipment for a personal gym. This year, there will also be the chance to discover dozens of new real estate projects at the National Housing Week space (Hall 9). Around 20 promoters and as many real estate agencies will be awaiting visitors in this area, accompanied by various associations, administrations, banks and insurance companies.
For further details, visit https://homeandlivingexpo.lu/en/.