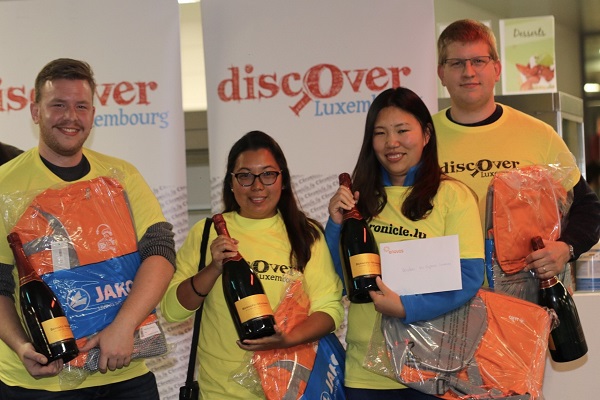 LuxBrothers, winners of Discover Luxembourg 2019; Credit: Ali Sahib
In collaboration with the Ville de Luxembourg and the Luxembourg City Tourist Office (LCTO), the 12th annual Discover Luxembourg took place on Saturday 7 September with a total of 42 teams registered to take part, with newcomers LuxBrothers claiming the top prize at their first attempt.
With the teams evenly split between those who have participated for a number of years and those that were trying it for the first time, they set off in two-minute intervals. The weather was indeed a bit inclement for the first few teams at the start, but the rain dried up and the sun came out later on as the teams traced their way around the 8.8km course.
With a total of 12 Event Stations, at which the teams undertook challenges to win points, as well as 25 observation questions to answer and 12 selfies to take (one including at least one duck looking towards the camera - in Merl park), many teams scored over 1,000 points in total, helped in many cases by scoring high on their joker rounds (double points).
At the start, the teams collected their event t-shirts (dark grey this year), baseball caps and water bottles, as well as their information bags and directions. Off they went, many teams with small children, a few with dogs and one participant (the first in 12 years) in a wheelchair.
The route took in the old city, with challenges organised by St George's School, ING Luxembourg, Vodafone, Enovos/LEO and RAK Porcelain; the route then took them along the Pétrusse valley and towards Luxembourg-gare, stopping off for challenges organised by the ACL and Crossfire, then calling into the OUNI zero waste shop and Le Quai Steffen in Luxembourg-Gare, before traipsing over to the Musée de la Déportation in Hollerich. After finding the answers to some questions there, they took the Cool Bus operated by Moyocci to Merl Park for another challenge, before walking through the Geessknappchen to the International School Luxembourg (ISL) for the final two challenges, including one by the Ile aux Clowns, the charity supported by this year's event.
With LuxBrothers scoring 1,284 points, they just pipped Smily & Slotty (1,283 points) into second and Soup or Bowl LIV (1,258 points) into third. No less than 20 teams won prizes, with LuxBrothers also presented with the maillot jaune (yellow jerseys), as well as magnums of crémant from Bernard-Massard. The event organiser, Geoff Thompson, also presented Eric Anselin of the charity Ile aux Clowns with a cheque for €820.