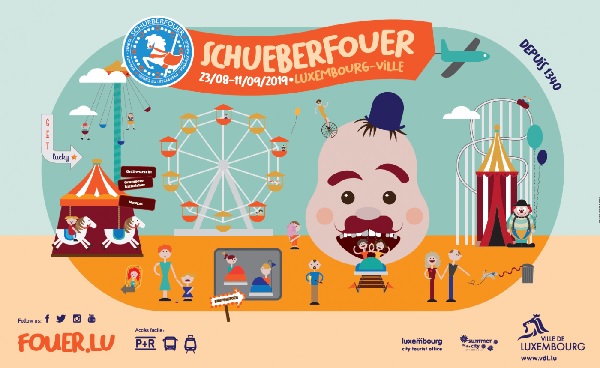 Schueberfouer 2019 poster designed by Nadia Recken; Credit: Ville de Luxembourg
A Summer Academy will be offered once again to children of fairground merchants in the context of this year's Schueberfouer, taking place from Friday 23 August to Tuesday 10 September 2019
During the twenty days of the Schueberfouer, Luxembourg's Ministry of National Education, Childhood and Youth, in collaboration with the Fédération nationale des commerçants forains (National Federation of Fairground Merchants, FNCF), the National Youth Service (SNJ ) and the Centre for Educational and Leisure Activities of the Ville de Luxembourg (CAPEL), is organising summer activities for fairground workers' children aged between 4 and 12 years old.
The twelfth edition of the Summer Academy will take place for the duration of the Schueberfouer (from 23 August to 10 September 2019) at the Sports, Cultural and Academic Center "Tramsschapp", located in Luxembourg-Limpertsberg, from Monday to Friday from 14:00 to 19:00. The children will be supervised by a team of entertainers from the National Youth Service. Focusing on the children's experience, the activities will make the link between the fairground and the host country and allow them to learn more about Luxembourg.
Featured on the summer activity programme are creative workshops, multilingual and sports activities and discovering Luxembourg City and beyond.
Parents will be able to register their children at the opening of the Summer Academy on Friday 23 August 2019 at 14:00 at the Tramsschapp Sports, Cultural and Educational Centre. A closing party will be held on Tuesday 10 September 2019 at 17:00.