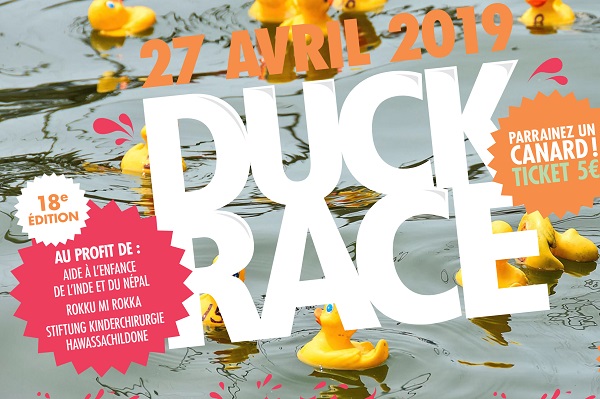 The 18th edition of Luxembourg's Duck Race Day will take place on Saturday 27 April 2019 in the Petrusse Valley.
Organised by the Luxembourg Round Table under the patronage of the Ville de Luxembourg, the event will once again see the presence of thousands of plastic ducks ready for their annual race through the middle of the Luxembourg capital.
Children's and adults' entertainment will begin at noon and at 15:00, several ducks will be launched in the Pétrusse below the viaduct (Rue Saint-Quirin, near the minigolf). The visitors will be divided in two villages and the race will have three rounds: two qualifying heats and the final will be held between the most valiant ducks. At the end of the race, the ducks making it to the front of the finish line will win their "owners" many prizes, such as a Volkswagen Up (first prize). The list of winners will be available on the Duck Race website (see below) as of 2 May 2019.
Since 1963, the Luxembourg Round Table has been committed to tolerance, friendship and service and invests the proceeds of the Duck Race for the benefit of charity. This year, they will support the actions of "Aide à l'Enfance de l'Inde et du Népal" (AEIN), "Rokku Mi Rokka" and "Stiftung Kinderchirurgie Hawassachildone".
Those wishing to participate in this event can purchase pre-sale tickets for €5. All ducks have a number corresponding to a lottery ticket number. Ticket pre-sale points are the Luxembourg City Tourist Office in Luxembourg-ville, Jerry Travel in Belval and the Duck Race website (www.duckrace.lu). The very last opportunity to secure the participation will be the sale on site just before the start of the race.