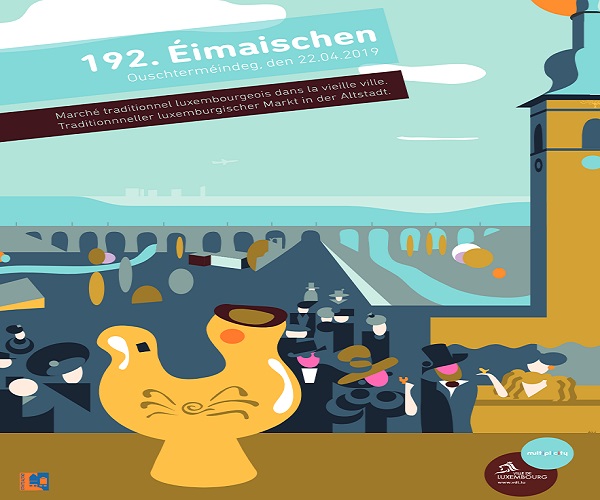 The annual Emaischen Easter markets will be held next Monday in Luxembourg-ville and in Nospelt.
The 192nd edition of the Emaischen craft market in Luxembourg-ville will take place on 22 April 2019 from 08:00 - 18:00 in the old town's historic streets, around the Grand Ducal Palace, Rue Sigefroi, Marché-aux-Herbes, iRue du Rost, Rue de la Reine and Rue du Fossé right up to Place d'Armes.
Easter Monday traditionally draws the crowds to add to their collection of "Peckervillchen" (ceramic bird whistles) which are sold on this day only in Luxembourg. This year's event will once again offer singing, dancing and musical activities from various folk groups, including Lidzeruucht Lëtzebuerg (10:00), Folklore Uucht-La ronde (11:00), Les Brasseurs (Brass Ensemble; 13:00) and Grënnesch Strëpp (14:30). There will also be face painting, from 10:00 - 17:00.
In addition, the traditional Easter market "De Lapouer op der Gare", organised by the Groupe Animation Gare a.s.b.l., will be held until 20 April 2019 in Place de Paris. There will also be a carousel for children installed at the "Roude Pëtz" in Grand Rue until 22 April 2019.