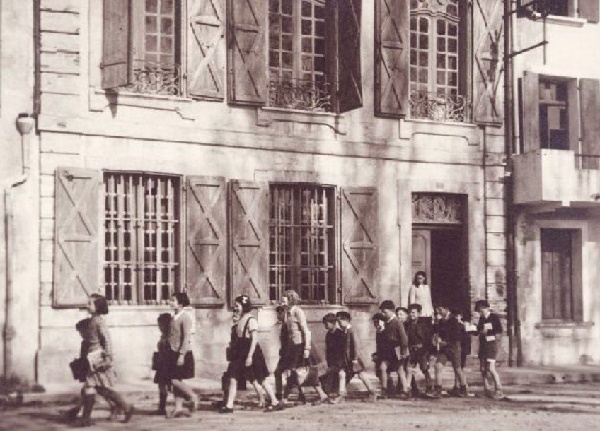 The opening of the exhibition "Les enfants de Moissac" (The children of Moissac) is scheduled for next Thursday 28 February 2019 at Neumünster Abbey at 18:30.
The exhibition tells the little-known story of the some 500 young Jews who, between 1939 and 1943, passed through the children's home in Moissac under the protection of the local population.
During their time at the home, these children were nourished and educated, but above all, they found in Moissac a place where they did not have to hide their identity. In the city, their Judaism was not hidden. Shabbat, bar mitzvah, Jewish holidays; everything was celebrated in broad daylight and against the backdrop of the Vichy regime.
Shatta and Bouli Simon, the Israelite scout couple from France, ran the place for 4 years. Of the 500 young Jews who found refuge, none were denounced or deported. A miracle made possible thanks to the benevolent complicity of the entire city of Moissac, but one that has since been all but forgotten by the history books.
From 1939 to 1943, the children's lives intermingled with those of the inhabitants of Moissac. The youngest went to school, the older ones worked as apprentices. However, early 1943 saw increased raids. The youth of the house escape several of them - thanks partly to benevolent administrative leaks. It was then necessary to disperse the children and the house was dissolved. They were the hidden among local inhabitants or nearby families.
It is this incredible story that gives life to the exhibition "Les enfants de Moissac". Archive photos help to trace the daily lives of these young Jews during the German occupation and highlight the courage of the inhabitants of Moissac, a city whose etymology refers to the name of Moses, the child saved from the waters who went on to become the prophet of Judaism.
The exhibition will run from Friday 1 to Sunday 17 March 2019. The vernissage, held on Thursday 28 February, will be followed by a lecture by François Boulet, a native of Moissac, founder and president of the Federation of Historical and Archaeological Societies of Yvelines and history professor at the International High School of Saint-Germain-en-Laye.
Registration to the vernissage is recommended via email: contact@neimenster.lu. Free entry.