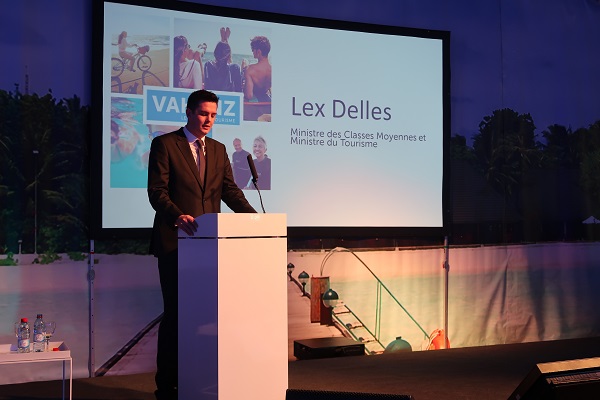 Lex Delles, Minister of Tourism, at Vakanz 2019; Credit: MECO
On Friday 18 January 2019, Luxembourg's Minister of Tourism, Lex Delles, officially inaugurated the 28th annual Vakanz travel exhibition at LuxExpo the Box which is the largest event in the Greater Region dedicated to travel and tourism in general.
Focusing on the theme of "active holidays, well-being and relaxation", the 2019 edition of the show is in line with the tourist attractions of Luxembourg. Active tourism, including cycling and hiking, are among the pillars of the promotion of the Grand Duchy as a quality tourist destination. The current restructuring of the 5,000 km of hiking trails and the improvement of their link with accommodation, catering and tourism structures help to strengthen Luxembourg's position in the field of active tourism.
With more than 3 million overnight stays recorded in Luxembourg in 2017, the tourism sector is doing well. Building on the professionalisation of tourism structures in the past, the development of the tourism sector will be supported in the coming years thanks to a policy of support, promotion and professionalisation. With a view to optimising supply, the Ministry of the Economy is actively supporting the ongoing investment in infrastructure, as well as the tourist attractions of the country, while emphasising sustainable concepts and valuing regional products.
In his speech, Minister Delles said "In order to develop the sector, the network of tourist infrastructures, including the national hiking trails and cycle paths, must be continuously developed and adapted to the needs of local residents and visitors. Regional sustainable tourism is particularly important to me. Maintaining and expanding hosting capacity in all its forms is a major challenge."
Luxembourg is represented at the "Vakanz" fair with a brand new stand that allows visitors to discover the variety and advantages of the national tourism offer and its main actors.
The 28th Vakanz fair at Luxexpo The Box in Luxembourg-Kirchberg takes place until Sunday 20 January 2019.