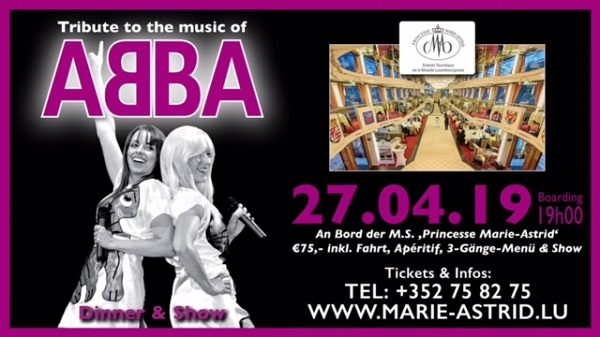 On Saturday 27 April 2019, the MS Princess Marie-Astrid will host an ABBA tribute special along the river Moselle, starting at 19:00.
Dionne & Louise (UK) will provide the entertainment for an unforgettable evening with hit songs including Waterloo, Dancing Queen, Super Trouper and Mamma Mia, all made famous by the Swedish cult band ABBA which sold over 150 million records to become one of the most successful bands in music history.
The MS Princess Marie-Astrid will embark and disembark from Grevenmacher (10 Route du Vin), with boarding at 19:00. It has a seating capacity of 220 (inside) and hosts public and private excursions between Easter and the end of September each year.
Tickets cost €75 (includes the trip, an aperitif, a 3-course dinner and the show) from tel: 758275 or online at www.marie-astrid.lu or www.dinnershow.lu