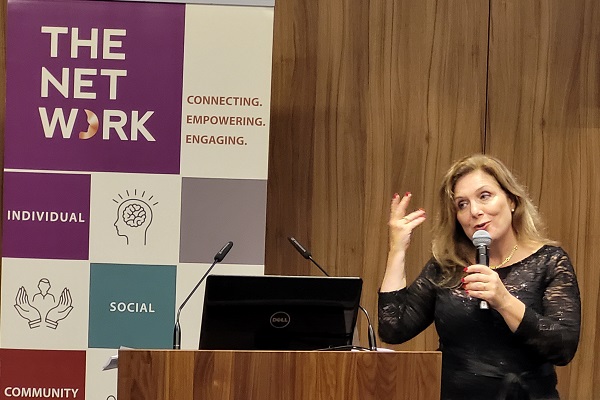 Rita Knott, Managing Director of the International Female Board Pool initiative in Luxembourg; Credit: Jazmin Campbell
On Wednesday evening, the NETWORK, Luxembourg's oldest international professional business women's association, held an event dedicated to "Empowering Women on Boards" on the premises of Arendt & Medernach in Luxembourg-Kirchberg.
The event took the form of a workshop with Rita Knott, Managing Director of the International Female Board Pool initiative in Luxembourg, who shared her observations and learnings accompanying many female board candidates over the last eleven years.
Mariana Florea, President of The NETWORK, opened the event by explaining why such discussions are still needed: since the first discussions on promoting equal opportunities for women at the European level 40 years ago (European Council resolution of 12 July 1982), very little progress has been made.
Rita Knott, who was speaking at her third The NETWORK event, started her presentation by quoting Martin Luther King Jr: "I have a dream"; her dream is to see the equal participation of women in decision-making roles – a dream she is not sure will be realised in her lifetime. She noted that there had been some progress in this area in the past couple of years, with the growing importance (and necessity) of environmental, social and governance (ESG), particularly in the financial sector. But more change is needed.
After having left her banking job (in a bank where she was the only female board member) to pursue a coaching career, she came across a flyer about the Female Board Pool at the IMP of the University of St Gallen in Switzerland in 2010 and attended a one-day seminar on the initiative. One year later, in 2011, Rita and her daughter founded the International Female Board Pool initiative in Luxembourg. The network has since expanded to other countries such as Austria, Germany and Denmark.
The Female Board Pool initiative in Luxembourg is a non-profit initiative that runs social projects in the Grand Duchy. Activities include seminars, matchmaking companies with suitable candidates and mentoring programmes. However, in Rita's experience, many companies who say they are looking to interview and recruit more women for decision-making roles, "do not 'walk the talk'".
Rita referred to upcoming quota deadlines such as the European Union (EU) law that obliges listed companies to have women take up at least 40% of non-executive board seats by 2026. Despite being limited to only listed companies, Rita recognised that such initiatives helped raise awareness of these issues. She added that companies needed to "walk the talk" (and not just "talk the talk") and actively promote diversity, whilst women should be more confident in their own capability to fill such positions. She added that in the current pandemic and geopolitical context and in light of environmental questions for the future, companies need diversity and different viewpoints more than ever.
Her advice for women wishing to secure a board mandate was to "learn by doing" and perhaps try a non-profit board role at first (but they should understand that such roles have the same liabilities as a paid mandate), for instance if they are already in full-time employment. Regarding the first tip, Rita noted that many women believe they are under-qualified when in reality, they need certain hard skills for specific mandates but the rest can be learned either on the job or through continued training once they are already on the board.
After the presentation, the attendees were split into smaller groups (of five – an ideal board size, according to Rita) and first had to each deliver a one-minute sales pitch. Participants shared whether they were a current or former board member or if they would like to be one in future. They then had to reflect on their hard and soft skills (in relation to board roles) based on the selection criteria guidelines for inclusion on the board ready women list (for Stock Exchange quoted companies). The women present quickly realised that they each had a lot of skills and value to bring to a board.
Mariana Florea and Christine Hansen, Events Director at The NETWORK, later presented Rita with a bottle of wine to thank her for her workshop. The evening concluded with a cocktail and networking session.