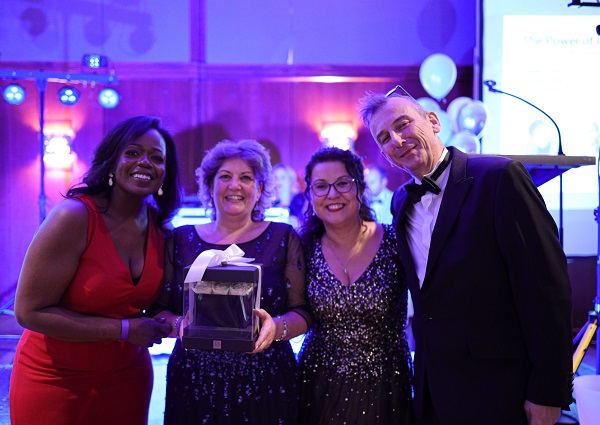 L-R: LaTasha Baker; Marie Louise Ashworth; Mariana Florea; Jim Kent; Credit: Ali Sahib
On the evening of Saturday 5 March 2022, around 160 people donned their most elegant clothes and dug deep to support The NETWORK's 30th anniversary charity gala.
Founded in 1991 by four professional women, The NETWORK is the oldest international professional business women's association in Luxembourg. Its activities centre around four pillars: personal growth, professional development, philanthropy and networking.
To celebrate its milestone anniversary (delayed by one year due to the COVID-19 pandemic) and continue to support women in the Grand Duchy, The NETWORK decided to put on a gala dinner and fundraiser to benefit three local women's charities: Think Pink Lux, Femmes en Détresse asbl and Dress for Success Luxembourg.
Following CovidCheck and registration, this black tie event kicked off with a crémant reception, sponsored by Bernard-Massard and featuring music by The IRMOS String Quartet, comprised of musicians from the Luxembourg Philharmonic Orchestra.
The evening continued with the welcome speech by The NETWORK's outgoing President Marie Louise Ashworth, a video message from founding President Sharon March and presentations by representatives of the three chosen charities. In her speech, Ms Ashworth presented the origins and mission of The NETWORK and held a moment of reflection and silence for Ukraine. She noted that the non-profit organisation has always focused on diversity and inclusion, aiming to "promote solidarity among all genders". She described the theme of this year's International Women's Day (8 March) – "Gender Equality Today for a Sustainable Tomorrow" – as "fitting".
The organisers went on to honour the commitment of past presidents of The NETWORK, as well Jane-Anne Frankel for seven years of dedication as a board member and member of the membership committee, by awarding them lifetime membership.
Throughout the evening, guests enjoyed a four-course meal, recorded their memories at the photo booth and participated in the charity raffle, with Marie Louise Ashworth and MC Jim Kent drawing and announcing the winning tickets. Top prizes included a canvas painting by Luxembourgish artist Alex McKell, month-long personal training sessions with Probody and a Sting VIP Package offered by Rockhal.
The NETWORK later presented its three chosen charities with cheques for €3,000 each; over the last two years, the non-profit raised a total of €9,000 from online events, gala sponsors (a total of €2,500 donated by SES, Aztec and HSBC) and the proceeds from the gala itself.
Guests continued eating, drinking and dancing to music by local DJ Miss MAD into the early hours.