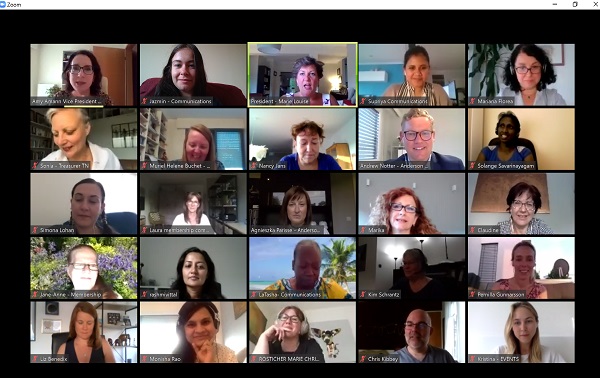 The NETWORK, Luxembourg's oldest international professional business women's association, in collaboration with recruitment firm Anderson Wise, held an online event dedicated to salary negotiations.
The event, which took place via Zoom, brought together around 35 participants, who had the chance to listen to the advice of recruitment experts from Anderson Wise on how to be prepared to confidently face the obstacles of salary negotiation.
Following introductions from speakers Andrew Notter and Agnieszka Parisse, participants were split into breakout groups in which they shared their own experiences with salary negotiation. Among the main challenges presented were the fear of negotiating (especially if done without the help of a recruiter) and not knowing how to respond to unexpected feedback. Another challenge was a lack of transparent and harmonised salary benchmarks. Others said that they would be more likely to switch jobs than try to negotiate a salary increase in their current company.
In response, Andrew Notter began by agreeing that employers can often be reluctant to offer a raise, for instance due to budgetary reasons. Nevertheless, he stressed that changing jobs may well come with a higher salary but there are many risks associated with such a decision, for instance sacrificing an enjoyable job for more money. Instead, he advocated at least trying to negotiate a pay rise – or even asking for additional benefits, such as more holidays or covered travel expenses. He added that people looking for a raise should bring up the matter throughout the year and not just wait until salary reviews (when company budgets have already been set out).
Moreover, with most of the participants being female, Andrew Notter highlighted that, according to the book "Women don't ask", only 7% of women attempted to negotiate their salary compared to 57% of men. And yet, even a small increase adds up over the years, with people generally able to negotiate an annual raise of up to 7%. He later added that 3-4% is generally considered to be a good year-on-year increase on top of index. Andrew Notter went on to recommend keeping a "brag sheet", which lists all an individual's professional accomplishments; it is important to highlight strengths and offer examples of one's contribution to the company. Being realistic is also important.
For her part, Agnieszka Parisse stressed that preparation (for all questions and scenarios) is key and advised against getting too emotional; even if the outcome is unexpected or unwanted, individuals can learn potential tips by listening to what the manager has to say. She also warned against trying to overly impress the boss by bragging, although accomplishments should be highlighted. Anyone wishing to negotiate a salary increase should go into the meeting with a positive attitude and a smile no matter what happens. She later added that individuals should be prepared for a no but take it as an opening point and not get discouraged. She also pointed out that salaries are based on one's output, not just experience and so reaching a higher salary band may require taking on new responsibilities.
Participants then returned to their breakout groups to discuss what they learned and what tips they had found useful. Some of the feedback included the importance of having a positive attitude and being prepared, the significance of timing and setting clear expectations and goals, asking for and taking on board feedback. The brag sheet concept also proved popular.
On the matter of how women can ensure they are paid fairly, Agnieszka Parisse recalled that women are less likely to ask for more money in general and that they often use apologetic language. For example, instead of apologising for being late, she suggested saying "Thank you for your patience". She concluded that anyone negotiating a raise or starting salary at a new job should be prepared to walk away in some cases.
Regarding the current COVID-19-related context, Andrew Notter recognised that these are challenging times and brining up salaries can be a sensitive topic. He recommended that each individual treat the situation with respect according to their company's situation.