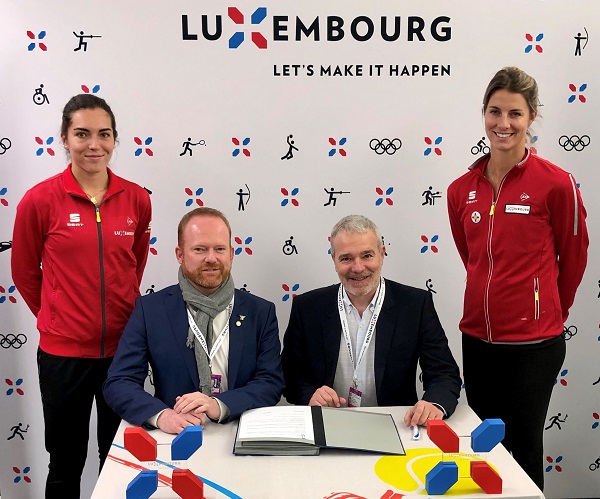 L-R: Eléonora Molinaro; Claude Lamberty, FLT President; Dan Kersch, Minister of Sports; Mandy Minella; Credit: MSP
The Ministry of Sports has announced the signature of two agreements with the Luxembourg Tennis Federation (Fédération luxembourgeoise de tennis, FLT), as well as agreements with tennis players Mandy Minella and Eléonora Molinaro.
On the sidelines of the 2020 Fed Cup, a tennis tournament between national women's teams, Luxembourg's Minister of Sports, Dan Kersch, signed two agreements with the FLT. These agreements relate to the participation of the State (Ministry of Sports) in the salary costs of the administrative and technical staff of the FLT, as well as to the partnership within the framework of the promotion of Luxembourg in the field of sport: "Luxembourg - Let's make it happen".
In this context, Dan Kersch also signed nation branding agreements with Luxembourg tennis players Mandy Minella and Eléonora Molinaro.
In addition, the Sports Minister met with David Haggerty, President of the International Tennis Federation (ITF), to discuss the future of national and international tennis.