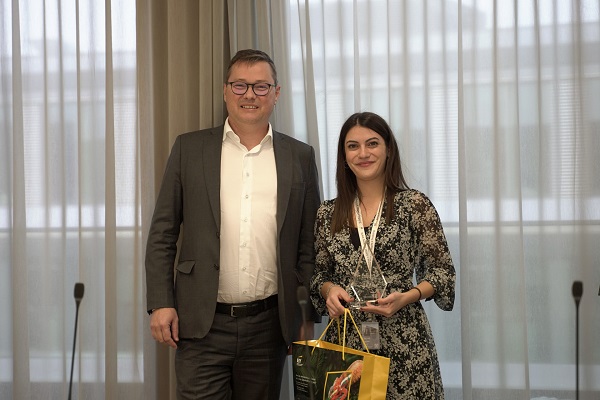 L-R: Bart van Droogenbroek, Partner & Tax Leader at EY Luxembourg; Eleni-Lydia Lazaridou, winner; Credit: EY Luxembourg
EY Luxembourg has named Eleni-Lydia Lazaridou the winner of the Luxembourg round in EY's Young Tax Professional of the Year competition, an international contest open to students and young professionals with an interest in tax.
The EY Young Tax Professional of the Year is an international competition designed to identify young talent with an interest in tax, help them enhance their professional skills and develop their careers. During the past eleven years, more than 40,000 talents have taken part in the competition.
Five finalists competed in the national round which took place in EY's premises in Luxembourg-Kirchberg on Thursday 28 October 2021. 26-year-old Eleni-Lydia Lazaridou won this year's award. She will represent Luxembourg among 30 other countries in the next phase of the competition in November. The international final will take place in February, where the last ten finalists will compete to become the next Worldwide Young Tax Professional of the Year.
During the first round, the participants had to prepare and present a case study challenging their technical abilities and wider commercial strengths. Part of the assignment included the involvement of environmental, social and governance (ESG) considerations, which will also play a major role along the upcoming challenges at international level.
"All participants have done an excellent job and proven to be on the path of becoming an expert in their field of expertise. We are happy to announce that the first place went to Eleni-Lydia Lazaridou, a young professional in EY's International Tax and Transactions team. Congratulations and good luck to Eleni for the second round of the competition!", commented Bart van Droogenbroek, Partner and Tax Leader at EY Luxembourg.
Students and young professionals interested in participating to the next edition are invited to get in touch with Christian Schlesser, Partner and International Tax and Transaction Services Leader at EY Luxembourg.
Further information is available at www.ey.com/lu.