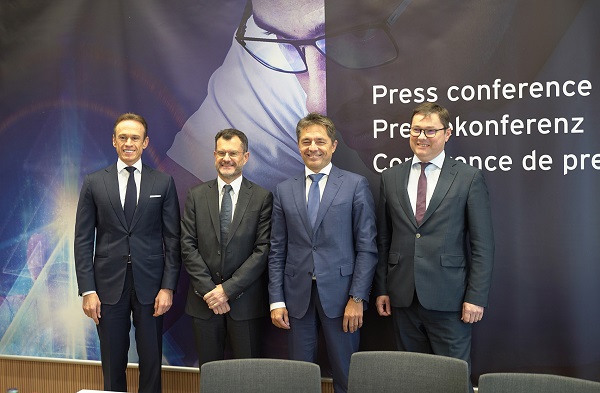 Credit: EY
EY yesterday announced a growth of 8.3% in its turnover generated in Luxembourg with revenues up in all service lines; total net revenues for the financial year ending 30 June 2019 amounted to €236 million.
Alain Kinsch, Country Managing Partner at EY Luxembourg, commented: "We are very pleased to achieve again a strong revenue growth of 8.3% this year, with sales increasing in all our practice areas. In the past three years we grew our revenues by 33% and now count over 1,500 EY professionals in Luxembourg".
The EY Luxembourg audit practice continued to win numerous new audit mandates as well as transform its service delivery model through digital and innovation and achieved a strong 8.8% turnover growth continuing a journey of uninterrupted growth for more than ten years now, further strengthening its position as the second largest audit practice in Luxembourg.
In addition, a broader offering of cutting-edge managed reporting services to better meet the market's growing demand has largely contributed to double digit 10.9% growth of the EY Luxembourg advisory practice this year. This growth can also be attributed to assisting EY's clients on a continuous basis with the implementation of their regulatory agenda while significant technology-driven client demand continued particularly in blockchain, AI, cybersecurity, data analytics, IT risk management and intelligent automation. The advisory practice has provided its clients with tailor-made solutions to help them implement the required changes in the context of Brexit.
The Luxembourg Tax practice similarly delivered a robust growth of 6.5% of its turnover. Its tax advisors supported clients to navigate through the regulatory changes linked to the OECD's BEPS project as well as Luxembourg's implementation of the ATAD and MDR directives. While digitalisation, automation and robotics have become more prevalent, other main service drivers for the Luxembourg's tax practice have included strong support for global compliance reporting, transactions, transfer pricing, (re)-structuring, family offices and mobile workers. The perspective of Brexit brought an increased need for people advisory services such as for example in view of recent tax treaties with neighboring countries. From a financial point of view, the local practice experienced the most significant increase in its Transfer Pricing department achieving a very strong growth compared to prior year followed by the Global Compliance and Reporting practice. EY Luxembourg has also seen a significant increase in the alternative investment fund space requiring high quality tax advice which they expect to continue and further accelerate over the months and years to come.
On a global level, EY announced record combined global revenues of US$36.4 billion for the financial year ended June 2019. Overall, revenues grew by 8.0% in local currency.