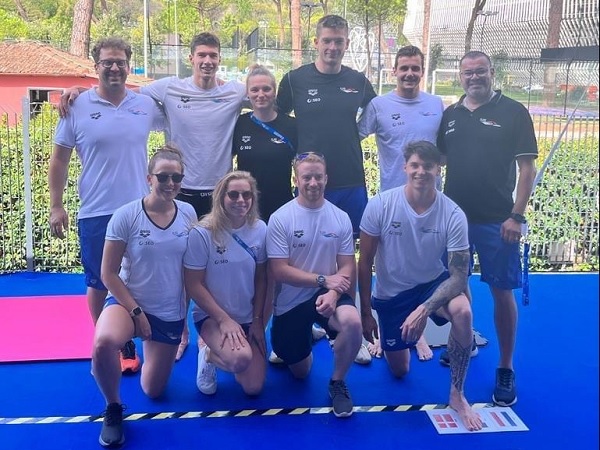 The Luxembourg team at the European Swimming Championships in Rome, August 2022; Credit: FLNS
On the seventh and last day of competition at the European Swimming Championships in Rome, the 400m Freestyle races for both men and women were held.
Monique Olivier was the first of the Luxembourg swimmers to enter the pool and swam her heat in 4 mins 19.84 secs which placed her 21st overall in Europe. In the men's heats in the same discipline, Pit Brandenburger clocked 3 mins 59.73 secs, which saw him placed 30th. As it had been three years since he had swum under four minutes for this discipline, he was satisfied with his performance.
The last event for the Luxembourg delegation was the 4x100 Men's Medley Relay which took place at the end of the morning. The Luxembourg team recorded a time of 3 mins 46.34 secs, which was recognised by FLNS as a great collective performance.
1. Max Mannes 100 Backstroke in 56.96 secs
2. Pit Brandenburger 100 Breaststroke in 1 min 4.55 secs
3. Julien Henx 100 Butterfly in 55.11 secs
4. Rémi Fabiani 100 Freestyle in 49.72 secs
While the swimming may be finished the competition now turns to High Diving (extreme diving from a 27m platform), with Alain Kohl in action on Thursday afternoon.