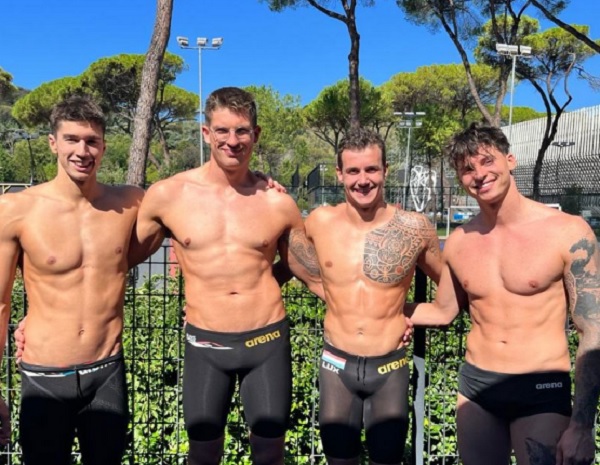 Luxembourg's Men's 4x100m Freestyle team; Credit: FLNS
On Sunday 14 August 2022, at day 4 of the European Swimming Championships in Rome, Luxembourg was represented by three Luxembourg participants in individual races, plus a men's relay team.
The first event of the morning was the Men's 200 Freestyle where Luxembourg was represented Max Mannes (in the first heat) and Pit Brandenburger (in the second heat). With a cautious start, it was Pit who managed his effort well to finish strong and win the heat in 1:50.62 (his best time of the season). Max recorded a time of 1:52.34.
There was not much time for the swimmers to recover before the Men's 4x100 Freestyle relay; within this period, Rémi Fabiani swan the Men's 50m Backstroke in 26.03 secs, a personal best. He then had to recuperate, change and present himself with his team-mates at the start of the relay. Rémi, happy with his performance in the Men's 100m Freestyle on Thursday, nevertheless knew what needed to be improved to go under 50 seconds, his personal goal before coming to Rome.
Late morning, Rémi Fabiani, Pit Brandenburger, Max Mannes and Julien Henx (in that order) swam alongside the great nations in the best of the heats. Completing the discipline in 3:20.92, the team of four broke the national record (3:21.62 set in Budapest in 2021).
1. Remi Fabiani (49.74 secs)
2. Pit Brandenburger (49.76 secs)
3. Max Mannes (51.08 secs)
4. Julien Henx (50.34 secs)
Note: Rémi Fabiani becomes the second Luxembourger to swim under 50 secs for the Men's 100m Freestyle and narrowly missed the national record (49.67 secs).
This relay has a future knowing that Ralph Daleiden, the national record holder, is absent in Rome due to the return to university in the United States. The FLNS hopes that a Luxembourg relay could soon record a time under 3 mins 20 seconds; however, we will have to wait until next season to find out...