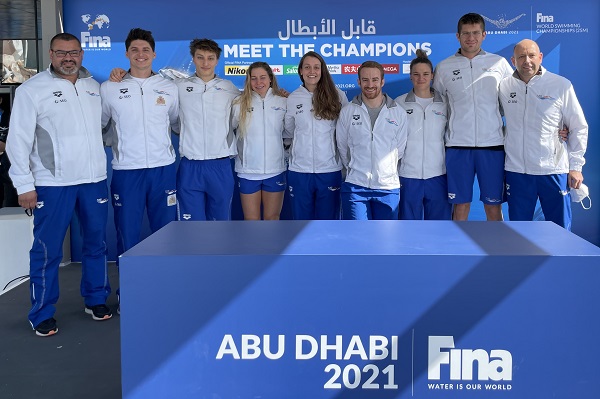 Team Luxembourg in Abu Dhabi; Credit: FLNS
Ralph Daleiden Ciuferri and Julie Meynen represented Team Luxembourg on Day 5 of the World Swimming Championships in Abu Dhabi on Monday 20 December 2021.
In his World Championships debut, 18-year-old Ralph Daleiden Ciuferri stayed under the 49-second mark (48.80 seconds) in the 100m freestyle race in the small pool for the third time in his career. However, he just missed his best time of 48.53 seconds from the Winter Championships.
"I had set myself a flat 48 as my goal. That was also possible, but I took the first 50 metres too slowly", he noted after the race.
24-year-old Julie Meynen finished 29th out of 89 swimmers in the 50m freestyle sprint after 25.12 seconds.
In parallel to the swimming competitions, qualification for the 2022 World Aquatics Championship in Fukuoka (Japan) took place in high diving. Luxembourg's Alain Kohl was promising on rank 18, but severely injured his Achilles tendon in the immersion phase of the second jump (triple somersault with two and a half turns; degree of difficulty: 4.3). The 39-year-old was unable to continue the competition.