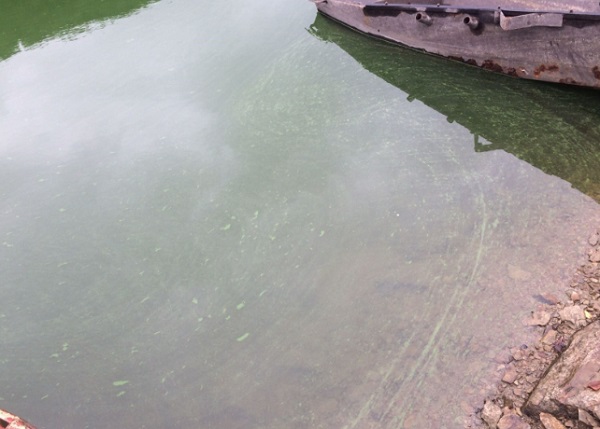 Cyanobacteria in the Rommwiss in 2017; Credit: AGE
Luxembourg's Water Management Authority (Administration de la gestion de l'eau - AGE) has announced a ban on swimming and aquatic activities in the Upper Sûre Lake due to the presence of cyanobacteria, better known as blue-green algae.
Following the latest analyses carried out in the context of the monitoring of swimming water quality, the AGE has observed a significant proliferation of cyanobacteria in the Upper Sûre Lake, near the beaches of Rommwiss, Burfelt, Lultzhausen, Insenborn and Liefrange.
The toxins produced by these cyanobacteria can be dangerous for humans, aquatic fauna, domestic animals and livestock.
The Luxembourg Institute of Science and Technology (LIST) was commissioned to carry out detailed analyses to determine the species composition of cyanobacteria. These analyses revealed the presence, among others, of the Limnothrix and Planktothrix species, which can produce toxins and therefore pose a potential health risk.
Disorders associated with contact, ingestion or inhalation of these substances are of variable nature and intensity and may for example include headaches, skin irritation and / or rashes or even nausea.
As a result, the authorities have imposed a ban with immediate effect on swimming and all water activities across the Upper Sûre Lake.
In addition, the AGE, in consultation with the Health Directorate, has recommended that the public do not let dogs or other pets drink water from the lake and to avoid eating fish caught in the lake. Anyone experiencing health problems after swimming in the lake should contact their GP, mentioning that they may have been in contact with toxic cyanobacteria.
There is no risk associated with the consumption of drinking water from the Upper Sûre Lake as the raw water is taken at a depth (25m) where the concentration of cyanobacteria is very low and the treatment system in place effectively removes toxins from cyanobacteria.