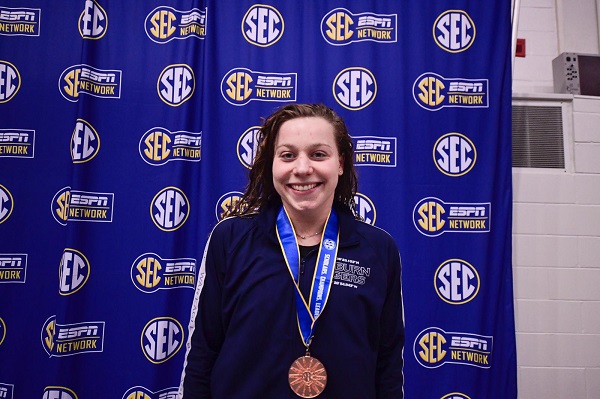 Julie Meynen with bronze medal; Credit: FLNS
Luxembourg swimmer Julie Meynen participated in the South East Swimming (SEC) Championships in the US last week, from 18 to 22 February, with her university team the Auburn Tigers.
At the home game at the James E. Martin Aquatics Center at Auburn University (Alabama), the 22-year-old led her team to fifth among twelve teams with outstanding performances (nine races in four days).
At the start of the title fights, Julie Meynen fought for fourth place in the 4x200 yard freestyle relay with the Auburn Tigers in 06:59.38 minutes. The next day, as the start swimmer of the 4x50 yard relay, she put her team on course in 21.65 seconds before teammates Claire Fisch, AJ Kutsch and Robyn Clevenger swam to gold in a new SEC record: 01:25.41 minute.
Auburn head coach Gary Taylor commented: "It was a historic performance from the Tigers. They broke the SEC record by more than a second and posted the second fastest time in the history of our sport".
Shortly thereafter, Julie Meynen was on the podium again. In the A-final over 50 yards freestyle, she finished third in a new personal best of 21.54 seconds. With this time she ranks second in the Auburn Tigers' best list, behind Ariana Vanderpol. Julie Meynen was also successful in the unusual 200 yards distance. In a new personal best of 01:46.93 minute, she finished sixth in the C final.
Over 100 yards of freestyle, the Luxembourg swimmer qualified again in 47.43 seconds for the A final, improving this time to 46.96 seconds in the evening and securing the bronze medal. At that time, she was ranked fifth on the US leaderboard.
At the end of the competitions, Julie Meynen led her team to gold as the starting swimmer (46.88 seconds) of the 4x100 yards freestyle relay. In 03:09.18 minutes, the Auburn Tigers set a new SEC record and defended their title from the previous year.
Commenting on this achievement, Julie Meynen said: "It feels amazing; we couldn't have finished the meet on a better note. We tried to defend our title this year, and it was awesome".