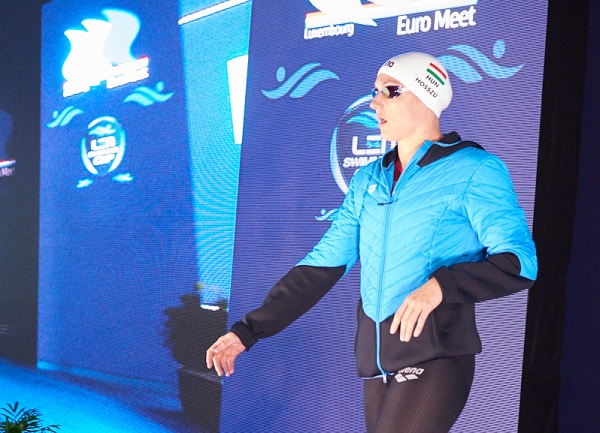 Katinka Hosszu; Credit: Luxembourg Euro Meet
The Euro Meet Organising Committee has announced that Hungarian Olympic champion and world record holder Katinka Hosszu will be competing in the 22nd edition of the Euro Meet swim event, being held at d'Coque in Luxembourg-Kirchberg from 24 to 26 January 2020.
The Hungarian top swimmer, also known as the "Iron Lady", will kick off the Olympic year with starts at the FINA Champions Series in Shenzhen (China) from 14-15 January and in Beijing (China) from 18-19 January before taking part in the Luxembourg Euro Meet.
This will not be Katinka Hosszu's first time competing in Luxembourg: at the Euro Meet 2013 she swam all fifteen individual events into the final and won eleven of them. This year, Hungary's "Iron Lady" will have some tough competition, especially in the form of Sweden's Olympic champion Sarah Sjöström, British European champion Georgia Davies and the Italian 2016 European Championship bronze medallist Ilaria Bianchi.
At the European Short Course Championships in Glasgow last December Katinka Hosszu won the 400m medley title and thus, fifteen years after her first podium at the European Championships in Vienna in 2004, won her 90th international medal at the European Championships, World Championships and Olympic Games.
Further details as well as tickets for the Euro Meet 2020 are available from www.euromeet.lu.