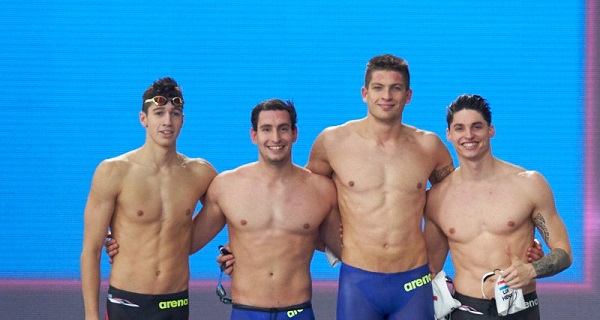 Credit: Luxembourg Swimming Federation (FLNS) / Facebook
On Saturday, on the penultimate day of the European Short Course Swimming Championships in Glasgow, Luxembourg's swimmers delivered record results in two events.
The focus was on the preliminary heats over the 50m butterfly, 100m freestyle and 100m medley positions for the men as well as the 200m freestyle event for the women.
On this occasion, Julien Henx set a new national record in the butterfly sprint with a time of 23.26 seconds, beating the old record by five-hundredths. In the overall ranking, the Luxembourgish athlete ranked 23rd, missing the semi-finals by 1.6-tenths. Julien Henx commented: "On the one hand, I'm happy about the best time, on the other hand, I'm disappointed to have so [narrowly] missed the semi-finals".
The Luxembourg duel in the 100m freestyle race saw Max Mannes emerge victorious. With a clear best time of 49.29 seconds and overall ranking of 51st, the 22-year-old relegated teammates Rémi Fabiani (50.00) and Pit Brandenburger (50.24) to 63rd and 65th place respectively out of 77 competitors.
For her part, Monique Olivier competed in the 200m freestyle event in the third of five heats. The 21-year-old finished the race in 01:58.36 minutes, with a new best time, national record and rank 22 (out of 48).
Finally, Raphaël Stacchiotti reached 36th place after finishing the 100m medley race in 54.97 seconds.