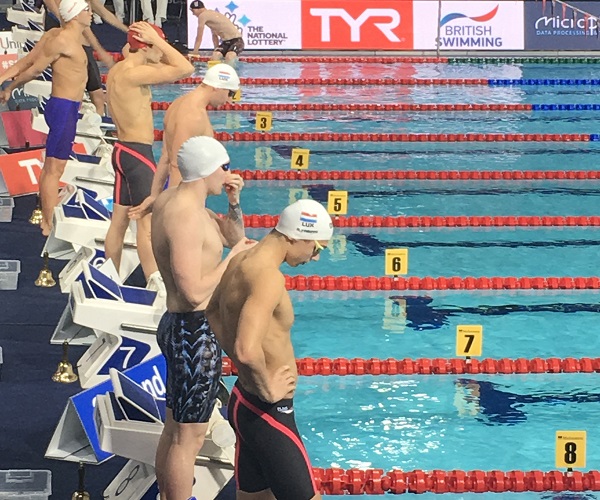 Credit: Luxembourg Swimming Federation (FLNS)
Luxembourg swimmer Raphaël Stacchiotti set a new national record yesterday at the 2019 European Short Course Swimming Championships, being held from 4 - 8 December in Glasgow.
The second day of the championships started with the 200m freestyle race. Max Mannes, Remi Fabiani and Pit Brandenburger represented Luxembourg on this occasion.
In the second heat, Max Mannes and Rémi Fabiani went head to head, with the latter finishing his first individual race in his first European Championships in 01:46.43 minutes. The 22-year-old was thus exactly one second faster than at the national championships two weeks ago in Differdange when he secured the title in 01:47.43 minutes, and ultimately ranked 33rd out of 56 athletes.
Rémi Fabiani also competed in the 200m backstroke relay races, which he finished in 01:48.80 minutes and in eighth place. Pit Brandenburger swam directly afterwards in the third heat on the outer track. With a time of 01:47.26 minutes, the 24-year-old was just over his best time of 01:46.88 minutes.
For her part, Monique Olivier competed in the 100m freestyle race, her first race of this year's championships. With a time of 56.32 seconds, the 21-year-old was six-hundredths off her personal best from November 2018.
The 100m backstroke event saw, for the first time, three Luxembourg swimmers face each other in a direct duel. In the third heat, Max Mannes, Rémi Fabiani and Raphaël Stacchiotti fought for the ranking. The latter went on to set a new national record with a time of 53.34 seconds, which put him in 45th place out of 62 competitors.
Raphaël Stacchiotti commented: "It's always cool to be the fastest. I can improve two small things, a time under 53 seconds is quite possible. The race was a good debut in the European Championship". His old record was 53.50 seconds, set in November 2019.
Max Mannes missed his best time by twelve-hundredths, finishing in the race in 54.10 seconds and 51st place. Rémi Fabiani also failed to reach his best time (54.16 seconds), finishing the race in 58.80 seconds and in 58th place.