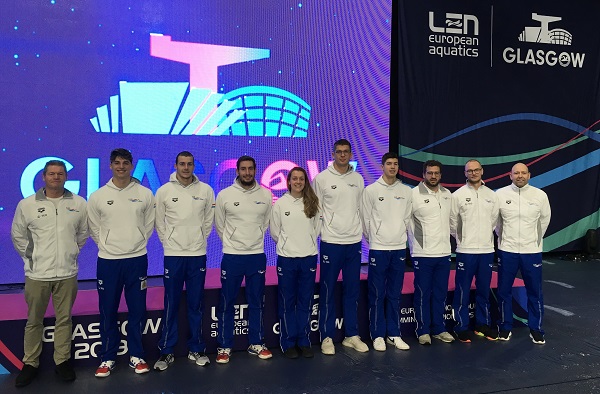 L-R: Ingolf Bender (Trainer); Julien Henx; Pit Brandenburger; Raphael Stacchiotti; Monique Olivier; Max Mannes; Remi Fabiani; Christophe Audot (Trainer); Brian Rasmussen (Physio); Christian Hansmann (DTN); Credit: FLNS
The Luxembourg Swimming Federation (FLNS) has announced that local swimmers Max Mannes and Rémi Fabiani have secured their spots at the 20th edition of the European Short Course Swimming Championships, being held from 4 - 8 December 2019 in Glasgow, Scotland.
More than 500 athletes from 45 countries will be competing for titles, records and medals at these championships, including a six-member selection from the Luxembourg Swimming Federation. Qualifying for their first European Championship (in the open class), Max Mannes and Rémi Fabiani will be representing the Grand Duchy on this occasion alongside elite swimmers Raphael Stacchiotti, Julien Henx, Pit Brandenburger and Monique Olivier.
A total of 40 events with semi-finals on the 50- and 100-metre tracks as well as the 4x50-metre squadrons are on the European Championship programme. According to the entry list, Julien Henx (over the 50m butterfly event) and Raphael Stacchiotti (over the 100m medley event) are Luxembourg's greatest chance of reaching a semi-final.