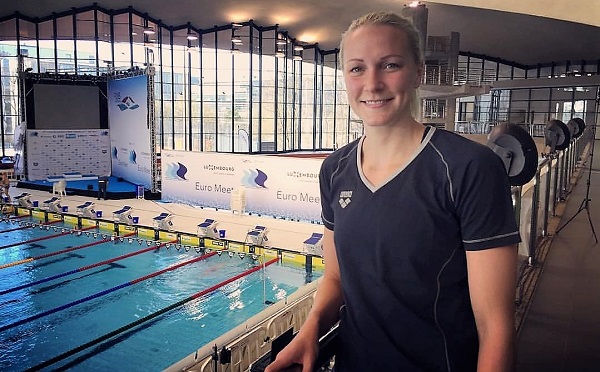 Sarah Sjöström; Credit: Euro Meet Luxembourg
Swedish competitive swimmer Sarah Sjöström has confirmed her participation in the 22nd edition of the Euro Meet, taking place from 24-26 January 2020 at d'Coque in Luxembourg-Kirchberg.
Sarah Sjöström was notably the first Scandinavian swimmer to win the gold medal at the 2009 World Championships in Rome, over the 100m butterfly event. Seven more titles at World Swimming Champions followed in the 50m and 100m butterfly events.
At the 2016 Summer Olympics in Rio de Janeiro, Sarah Sjöström went on to become Olympic Champion over the 100m butterfly event, with a world record time of 55.48 seconds. The 26-year-old also won a silver medal over the 200m freestyle event and a bronze medal over the 100m freestyle event. Swimming World's Female World Swimmer of the Year 2017 also holds the world records for the 50m butterfly (24.43 seconds), 50m freestyle (23.67 seconds) and 100m freestyle (51.71 seconds) events.
In addition, Euro Meet 2017 saw Sarah Sjöström break the meet records over the 50m and 100m freestyle and butterfly events. In 2018, she again improved the 100m butterfly mark and, at the 2019 World Championships in Gwangju, she collected five medals in single events (more than any other athlete): a gold medal over the 50m butterfly event (third gold in a row in this event), two silver medals (100m butterfly and 50m freestyle) and two bronze medals (100m and 200m freestyle).
At the Euro Meet 2020 in Luxembourg, Sarah Sjöström will once again prove her skills as the Olympic season kicks off.