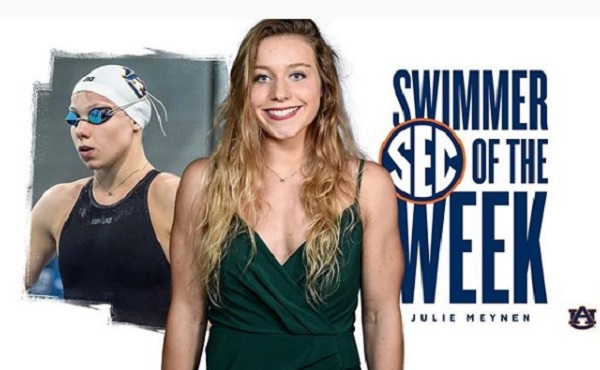 Julie Meynen, SEC Swimmer of the Week; Credit: Luxembourg Swimming Federation (FLNS)
The 2019-2020 season got off to a great start for Luxembourgish swimmer Julie Meynen.
At the inauguration of the Southern Methodist University (SMU) Classic in Dallas (USA), the 22-year-old student of Auburn University (Alabama) showed three outstanding performances over the weekend and was named South Eastern Conference (SEC) Female Swimmer of the Week yesterday.
Commenting on Julie Meynen's performance, Auburn head coach Gary Taylor said: "Julie had a fantastic meet in Dallas this past weekend at the SMU Classic. She had some outstanding performances in the 50 free where she posted one of the fastest times in the country and in the 100 free in which she posted the fastest time in the country. Both of those performances have always qualified for NCAAs".
Indeed, Julie Meynen set a new personal best and an event record in the 50 yard freestyle with a time of 22.05 seconds. She also secured victory in the 100 yard freestyle with a time of 48.20 seconds, which is currently the fastest time in the US.
The Luxembourg national also swam a leg in both the 200 freestyle and 800 freestyle relays, leading the Auburn Tigers' team to victory and a new personal best of 1:45.85 minutes.
This Saturday, Julie Meynen and the rest of her Auburn Tigers teammates will open the home season with a dual meet against Louisiana State University at the James E. Martin Aquatics Center.