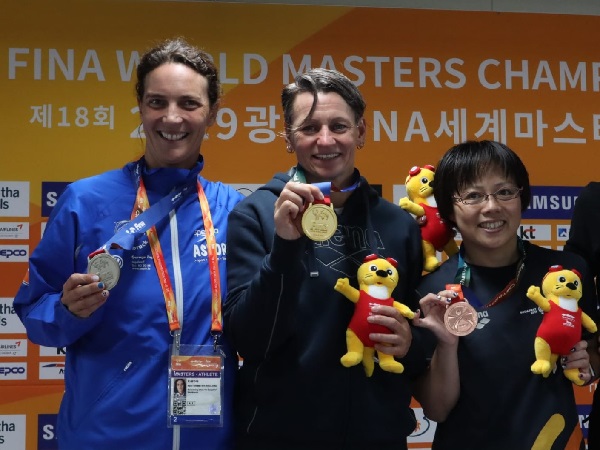 Carole Kettenmeyer-Reuland (left) with her medals in Gwangju; Credit: Luxembourg Swimming Federation (FLNS)
Luxembourg swimmer Carole Kettenmeyer-Reuland has finished in the top three in two races and set three national records at the 18th FINA Masters World Championship held in Gwangju, South Korea.
From 5 to 18 August 2019, over 4,000 athletes from 1,207 clubs in all water sport disciplines (swimming, diving, water polo, open water swimming and synchronised swimming) from 83 countries, including Luxembourg, fought for titles and medals in the 20-90 age groups in Gwangju,
Carole Kettenmeyer-Reuland from "le Dauphin" swimming club in Ettelbrück was the most successful participant from Luxembourg, securing two medals and three national records. Over the 400 metres medley, the 40-year-old won the silver medal in the age group 40-44 years in 5 minutes 41.10 seconds and set Luxembourg's Masters record. She went on to win a bronze medal and set another new national record over the 800 metres freestyle with a time of 10 minutes 15.49 seconds.
Carole set her third national record over the 200 metres backstroke, where she finished in fifth place with a time of 2 minutes 43.39 seconds. Over the 200 metres medley, she placed sixth in 2 minutes 41.40 seconds and eighth over the 200 metres freestyle in 2 minutes 23.55 seconds.
In the age group 55-59 years, Nicole Feitler from the CN Dudelange swimming club finished fourth in open water swimming over 3000 metres with a time of 52 minutes 41.19 seconds.
These victories follow that of Belgian national Frédéric Tonus from the Luxembourg Sharks Swimming Club, who finished first in the 100 and 200 metre butterfly and second in the 50 metres butterfly, 100 and 200 metre freestyle races in the 45-49 year age group.