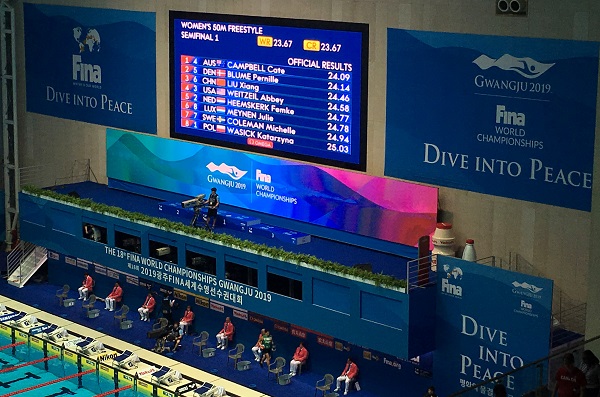 Julie Meynen in Swimming World Championships 50m Freestyle Semi-Final; Credit: FLNS
At the current Swimming World Championships being held in South Korea, Luxembourg's Julie Meynen finished in 12th place in the Women's 50m freestyle event, when swimming in the 2nd semi-final.
The 21 year-old swimmer broke the 25-second barrier for the first time (her previous best time was 25.07 secs) and swam the distance in 24:78 secs. Exactly a year before the start of the Olympic Games, she came to within one hundredth of a second of the A-standard qualifying time.
After Laurent Carnol (15th in Shanghai in 2011; 9th in Barcelona in 2013) and Raphael Stacchiotti (16th in 200m in Gwangju), Julie Meynen is the first Luxembourgish woman to reach a World Cup semi-final.