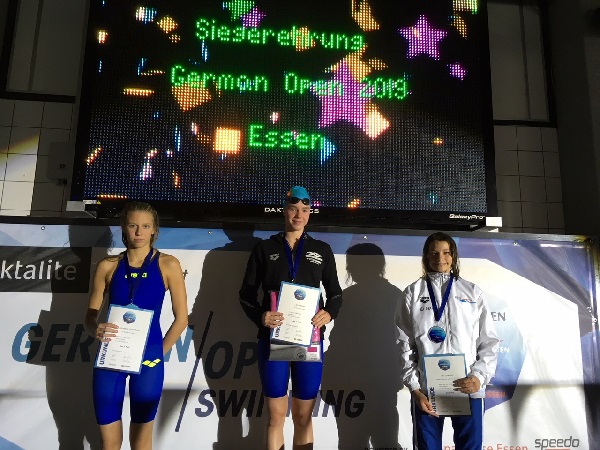 From 10 to 12 May 2019, a team of Luxembourg swimmers competed in the German Open 2019 in Essen.
On the first day of the German Open, Bob Sauber secured a ticket for the Junior European Championships in Kazan at the beginning of July. The 17-year-old finished the 100m freestyle in 52.33, beating the standard time for the title by eight hundredths, and went on to qualify seventh for the open final in the afternoon. In the final, the Luxembourg athlete sprinted to sixth place in 52.45.
In the 14 age group, Lou Jominet won silver in the youth rating for the 1500m freestyle (17: 40.12). Similarly, Raphael Stacchiotti and Jacqueline Banky qualified fourth and fifth respectively in the 200m backstroke finals. The first day ended with Yann Van Den Bossche finishing eighth in the 100m breaststroke (1:07.15).
On the second day of the competion, Raphael Stacchiotti secured gold in the 200m medley race, with a time of 2:04.50. For his part, Bob Sauber qualified in 1:55,91 for the open final in the 200m freestyle. In the end, he finished in eighth place (1:59.56).
In the girls' youth final, Lou Jominet secured a new best time of 2:09.17 and finished in fifth place. Already at noon, the young athlete secured a new personal best time of 9:14.23 and placed third in the youth category in the 800m freestyle. In the men's 800m race, Jacques Schmitz similarly set a new best time of 8:34.81 and finished fifth in the open classification. At the end of the second day, Yann Van Den Bossche swam to seventh place in 30.23 in the 50m breaststroke race.
On the last day of the German Open in Essen, Yann Van Den Bossche competed in the 200m breaststroke and Lou Jominet, Jacques Schmitz and Raphael Stacchiotti in the 400m freestyle. 17-year-old Yann increased his time by one second compared to the first heat and finished sixth in 2:28.34.
After her best times in the 1,500m, 800m and 200m, Lou Jominet went on to set a new record in the 400m freestyle race, as well. With a time of 4:29.61 the 14-year-old qualified for the final and finished in third place (4:29.64) in the youth ranking.
Finally, in the men's 400m race, Raphael Stacchiotti narrowly missed the podium by nine hundredths and finished fourth with a time of 4:03.89. The second Luxembourg starter, Jacques Schmitz, did not reach his best time of 4:09.70, instead finishing the race in 4:17.84. He finished in eighth place.