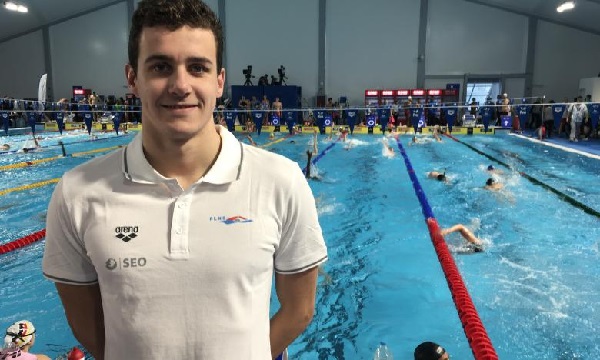 Pit Brandenburger; Credit: FLNS
The seven-strong Luxembourg swimming team has returned from the International Swim Meet in Bergen, Norway with a new national record, numerous best times and qualification standards.
Pit Brandenburger set a new national record with his performance in the 800m freestyle race. The Luxembourgish athlete placed fifth with a time of 08:20.88 minutes, thus improving the eleven year record of Rapahel Stacchiotti (08:20.91) since 2008. In addition, Brandenburger finished sixth in the A-final in the 200m freestyle with a new best time of 01:50.17 minutes and thus qualified for the World Championships in the summer in Gwangju. The 23-year-old similarly came in sixth place in the A-final in the 400m with a time of 03:58.93 minutes, within the range of his national record of 03:56.20 minutes.
On the second day of the competition in Bergen, Raphael Stacchiottit qualified seventh in the heats for the A-final. In the 200m breaststroke and freestyle races, the 27-year-old finished in fourth place. In the finish, he missed the podium by just 51 hundredths, with a time of 02:00.95 minutes. This was his fastest time since the Rio Olympics and only 1.28 seconds off the A-norm for Tokyo.
For her part, 20-year-old Monique Olivier set a new personal best in the 100m freestyle in 57.60 seconds, beating it to 57.44 seconds in fourth place in the B final, an improvement of 0.56 seconds to the 58 second best time record. A little later, she finished in fourth place in the the A-final 200m butterfly with a time of 02:18.97, only missing the podium by 86 hundredths.
Juniors Jacques Schmitz, Remi Fabiani, Yann Van Den Bossche and Bob Sauber were also in good shape. 16-year-old Schmitz completed the 200m freestyle in 01:54.80 minute, beating his standard time (01:55.87), thus qualifying for the European Junior Championship in early July in Kazan. He also came eighth in the B-final with a time of 01:55.56 minutes. Also qualifying for the Junior European Championship were Remi Fabiani, in the 100m backstroke, and Yann Van Den Bossche in the 50m breaststroke race. 17-year-old Fabiani made the jump to the A final in the 100m backstroke with a new personal best time of 59.17 seconds, coming in sixth place. For his part, Van Den Bossche equaled his best time of 29.77 seconds in the 50m breaststroke race and swam to fifth place in 29.96 seconds in the B final.
Finally, Bob Sauber showed his best performance in the100m freestyle. In 52.44 seconds, he set a new best time, but missed the European Junior Championship standard time by three hundredths.