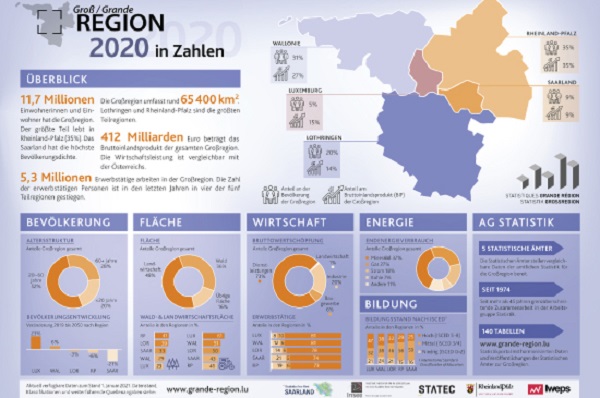 Credit: STATEC
On the occasion of the 17th Summit of the Greater Region, taking place on 20 January 2021, the statistical offices of the Greater Region, including Luxembourg's STATEC, have published a poster presenting figures for the region.
The Greater Region currently counts 11.7 million inhabitants, with a total GDP of €412 billion, or almost 2.5% of the GDP of the European Union. Around 5.3 million of the region's residents are in employment, of which 75% work in the tertiary sector, 17% in industry, 7% in construction and around 1% in agriculture.
The phenomenon of cross-border work is a characteristic of this interregional economic space. Every day, more than 250,000 workers cross borders within the Greater Region.
In 2019, around 17 million tourists visited the Greater Region. About 38 million overnight stays were recorded and the average length of hotel stays was 2.3 days.
Also in 2019, the vehicle fleet numbered more than 6.6 million passenger cars, which represents an average motorisation rate of 568 cars per 1,000 inhabitants. In comparison, Luxembourg counted an average of 677 cars per 1,000 inhabitants.
The bilingual poster is co-edited by STATEC, in partnership with the Statistical Offices of the Greater Region (Sarre, Lorraine / Grand Est, Rhineland Palatinate and Wallonia). It presents some key figures from statistical themes at the regional level, available on www.grande-region.lu/portal.