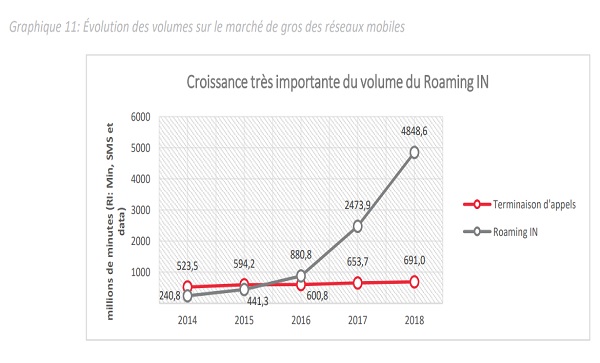 Credit: ILR Telecommunications Statistical Report
A statistical report by the Luxembourg Institute for Regulation (ILR) on telecommunications has revealed an increase in roaming traffic in 2018.
Based on the statistical data collected from service providers, the Telecommunications Statistical Report for 2018 provides information on the providers' activities and on the consumption of final customers. The report particularly emphasised trends in fixed Internet access services, mobile services and income and investments.
In the first category, fixed Internet access with a top speed ≥100Mbps represented 40.7% of the total fleet and the number of fibre optic Internet access reached 78,200 subscriptions (+31.4%) at the end of 2018. Similarly, the coverage of homes and premises connected by fibre optics reached 65% by the end of the year, whilst the IP telephony / Voice over Broadband service grew to 157,200 units (+14.1%).
Secondly, regarding mobile services, the number of prepaid SIM cards dropped to 77,000 cards by the end of 2018 (-22.2%) and national mobile Internet traffic was growing more slowly (+20.4%). However, roaming traffic volumes (In / Out) increased sharply (+34.5%) last year.
Concerning income and investments in the sector, overall income increased to €575.6 million (+2.3%), despite investments falling to €80.6 million (-22.6%) in 2018.