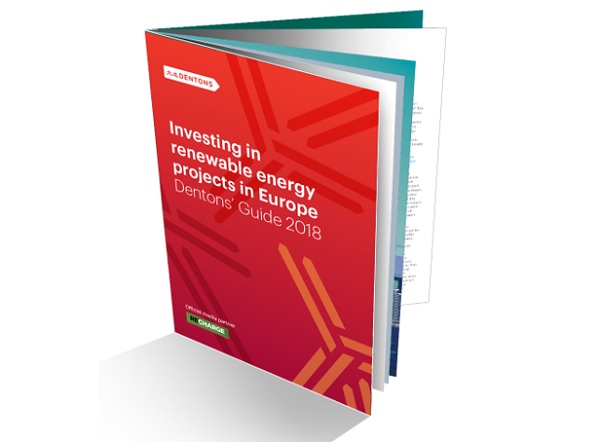 On Tuesday 26 June 2018, Dentons law firm announced that it has launched the 2018 edition of its "Investing in Renewable Energy Projects in Europe" guide.
The great European energy transition continued in 2017 and, across the continent as a whole, shows little sign of slowing up in 2018. Ever lower levels of subsidy and guaranteed power prices awarded after fiercely competitive tenders have not deterred developers or financiers, who still see opportunities even in the more mature renewables markets.
As ever, uncertainties remain. What will be the final shape of the EU's post-2020 legislative framework for renewable energy and the power sector? Will EU or national rule changes help unlock markets for corporate PPAs, where Europe still lags behind the US, or accelerate the rollout of EVs and other forms of energy storage? In the longer term, will it be renewable electricity or other technologies that decarbonize Europe's heat and transport sectors?
The 2018 edition of Denton's guide "Investing in renewable energy projects in Europe" has now been launched. It highlights key regulatory developments and gives snapshots of the prospects for renewable energy projects in 20 jurisdictions across Europe and Central Asia, including Belgium, France, Germany, Italy, the Netherlands, Poland, Romania, Spain, Turkey, UK and Ukraine. The guide is available in English and Chinese.
Dentons produced this guide in cooperation with RECHARGE, the global source for renewable energy news and intelligence.