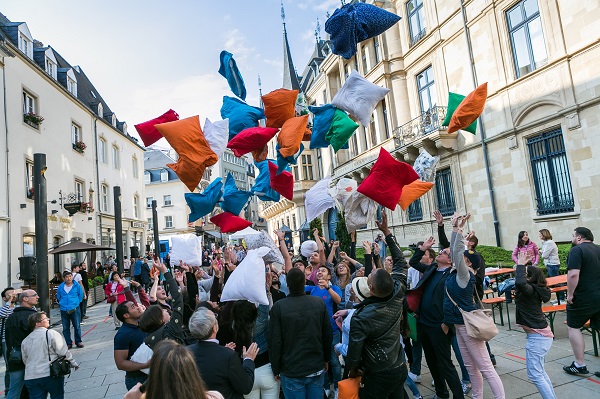 Pillow Fight against Parkinson's disease; Credit: © Olivimage
The giant public Pillow Fight is coming back for a second round of pillow throwing and awareness raising; on Saturday 9 June 2018, starting at 14:00, the pillow fights that will take place in front of the Grand Ducal Palace (Rue du Marché-aux-Herbes) and will raise awareness for the battle against Parkinson's disease.
The Pillow Fight is co-organised by the National Centre of Excellence in Research on Parkinson's Disease (NCER-PD), the Luxembourg Centre for Systems Biomedicine (LCSB) of the University of Luxembourg and the Luxembourg Institute of Health (LIH). The aim? Have fun while supporting a good cause: raise awareness about Parkinson's disease and the necessity to continue researching new methods for diagnosis, prevention and therapy. This event represents the fight that many in Luxembourg are waging every day against Parkinson's.
From the family pillow fight to the final battle, there will be something for everyone throughout the afternoon and, like last year, no dress code will be too extravagant. On top of sending pillows flying into the air, visitors will also have the opportunity to visit booths where scientists will be sharing information about Parkinson's disease and research in Luxembourg. The participants will be able to try on a Parkinson suit at the LIH booth for example or to test their dexterity and their senses with the NCER-PD team. Visitors of all ages will also have the chance to do some experiments prepared by the Scienteens Lab to better understand how neurons work.
Programme:
14:00 Opening and Welcome speeches
• Prof. Romain Martin Pallage, Vice-Rector of the University of Luxembourg
• Dr Ulf Nerhbass, CEO of the LIH
• Dr Marc Schiltz, Secretary General of the Luxembourg National Research Fund
• Roseline Lentz, President of the association Parkinson Luxembourg
• Lydia Mutsch, Minister of Health
14:30 Family pillow fight
15:10 Pillow fight open to all
15:50 Pillow fight open to all
16:30 Pillow fight open to all
17:10 The final battle
The complete programme, rules for participation and details about the organisers can be found at www.pillowfight.lu