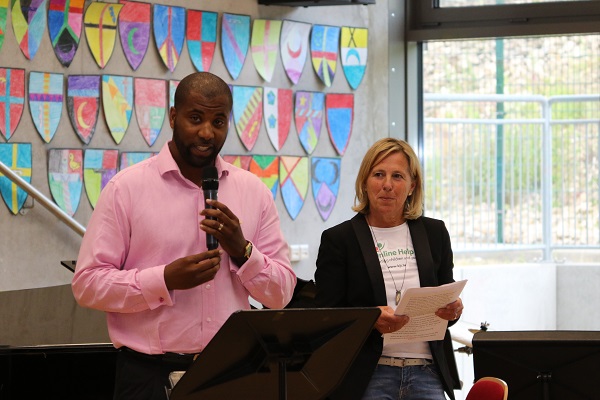 Kanner Jugend Telefon (KJT), as part of their 'You are not Alone' campaign, launched their Children and Young People's Online Help service yesterday evening at the International School of Luxembourg.
The service now offers free, confidential and anonymous support to parents, children and young people in Luxembourg in four languages; Luxembourgish, English, German and French, and is available seven days a week.
The launch of Online Help for Children and Young People was launched at the KJT organised conference 'Keep Calm and Survive the Teenage Years' where key guest speakers Prof Dr. Claus Vögele, and Dr. Ouzzahra, from the University of Luxembourg, Carrie Cannon, ISL Upper School Nurse, Patricia Anderson, ISL Upper School Counsellor, and Nadine Vinandy from the Family Planning Service in Luxembourg, discussed various aspects of the teenage experience. Rudi Bringtown, representing Luxembourg Hearts Rotary Club, commented 'KJT supports the local community in Luxembourg for over 20 years now and 90% of their team are volunteers. At Luxembourg Hearts our main goal is have a positive impact on the local community so supporting KJT and the Online Help initiative was a perfect match'.
Carrie Cannon and Patricia Anderson, who work directly with young people and families, recommended parents to consider their communication approach when speaking with their teenage children. Carrie Cannon suggested that parents make time for their children, take an interest and, above all, listen. Patricia Anderson emphasised how positive communication and connection between parents and young people nurtures positive self-image, actively promoting self-esteem to help them navigate the stormy seas of adolescence.
Prof Dr. Claus Vögele, and Dr. Yacine Ouzzahra from the University of Luxembourg discussed self-regulation and health in relation to the teenage years. Dr Vögele discussed the effects of failed self-regulation as well as mental disorders in adolescence. Offering a a scientific explanation based on research, Dr Vögele explained why teenagers can be impulsive or can perhaps lack self-regulation in adolescence. Dr Ouzzahara, when discussing the beneficial effects of exercise, not only physical health but also mental health, stated that research suggests exercise improves mood, reduces anxiety and improves self-esteem due to diversion from stress. Dr Ouzzahara stressed that indications in research would suggest that starting sport early in life can have a long lasting positive psychological impact. This can lead to an increase in self-confidence and social interaction that can support an adolescent through confusing and turbulent times.
Guests at the conference were treated to an presentation from Nadine Vinandy from Family Planning Luxembourg who spoke about the medical and psychological support services offered in the Family Planning centres located in Luxembourg, Esch-Alzette and Ettelbruck. As part of the Family Planning Luxembourg service, they offer information about sexuality and contraception, free condoms, pregnancy testing and the morning-after pill. Nadine, who is responsible for the sexual and emotional education in primary and secondary schools, urged parents to introduce sex education from an early age as research suggests the better informed young people are, the more likely they are to make an informed choice regarding sex, tending to have sexual relationships in later years and reducing the likelihood of unexpected pregnancy.
Guests at the conference where invited to an open Q&A round as well as having the opportunity to discuss issues with the team of professionals present. This was the first of a number of conferences that KJT will be offering in Luxembourg.
Barbara Gorges-Wagner urged guests to tell friends, families and colleagues about the service. 'Life can change very quickly and knowing where to turn for help is essential, it is important to know that you are not alone' she said. 'We are there, we are open 24 hours a day, no problem is too big or too small'. Barbara reminded guests the fully trained counseling team, made up of male and female volunteers treat each person who contacts Online Help with openness, respect and in a non-judgemental way, helping the person to find strength and solutions to their problem.
If you would like to make contact with Online Help please visit the KJT website, www.kjt.lu and click on the icon "Online Help"