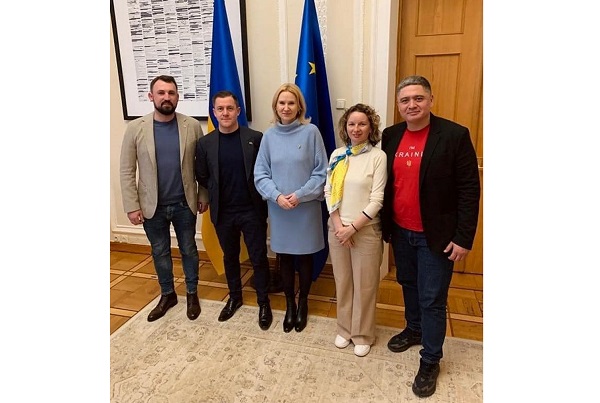 LUkraine asbl representatives and Venari Group Deputy Chairman Oliver North meet with Olena Kondratiuk, Deputy Speaker of the Verkhovna Rada of Ukraine; Credit: LUkraine asbl
LUkraine asbl recently travelled from Luxembourg to Ukraine within the framework of its "Ukraine is Calling" fundraising campaign and to develop its plans to establish an on-the-ground presence in the invaded country.
On Friday 10 March 2023, LUkraine asbl President Nicolas Zharov and Vice President Inna Yaremenko, accompanied by Venari Group Deputy Chairman Oliver North, departed Luxembourg for Ukraine; they returned one week later, on Friday 17 March 2023. The reason for this trip (most of which was spent in Kyiv) was twofold: to deliver emergency vehicles to the State Emergency Service of Ukraine as part of the Ukraine is Calling campaign and to explore further the possibility of setting up a LUkraine asbl branch or mission/representation in Ukraine.
Just one day before their departure, the Luxembourg Directorate of Defence handed over the first eight of fourteen armoured ambulances purchased and acquired within the framework of the Ukraine is Calling campaign for the benefit of the Armed Forces of Ukraine. UK-based Venari Group had refurbished and adapted these vehicles for use by Ukrainian military medical personnel. The Defence Directorate was responsible for delivering these vehicles to their Ukraine partners; the remaining six vehicles will be sent directly from the United Kingdom to Ukraine.
For their part, Nicolas, Inna and Oliver handed over two non-armoured ambulances and five fire engines (the latter had arrived one week earlier), funded by the Ukraine is Calling campaign, to the State Emergency Service of Ukraine. The trip was also an occasion to meet with representatives of Ukraine's Ministry of Defence, the Ministry of Health and the National Police of Ukraine, as well as the Deputy Speaker of the Verkhovna Rada (parliament) of Ukraine, Olena Kondratiuk, Ukraine's Deputy Minister of Foreign Affairs, Emine Dzhaparova, and the Mayor of Kyiv, Vitali Klitschko. They also spoke with members of the public, who shared their experiences of the past year.
Inna noted that one individual, a friend with whom she had the opportunity to catch up briefly during the trip, had been "amazed" at the way in which Ukrainians had become united over the past year. She noted the important role played by those who choose to stay in and protect Ukraine, even if they may have the possibility to leave.
"It's all about people," emphasised Inna, noting that she had seen a lot of destroyed buildings in the Kyiv region but these could be rebuilt. "But we already lost so many people, so many people died. We need to think about how to rebuild people. We will need a lot of psychologists. [...] It's post-traumatic stress disorder. It will take years to rebuild ourselves, our emotions." She also noted the bravery of Ukraine's people: "That's why we will win because we have these people here, doing the maximum, non-stop. [...] We have to support these people. Back in Luxembourg, these people are our biggest motivation. Not destroyed buildings, but people."
In addition, LUkraine asbl took this opportunity to develop its plans for a representation in Kyiv, the aim of which is to "be more present in Ukraine and do projects there on the ground and be more effective, more productive". The non-profit is currently finalising the registration of this representation and, depending on funding, plans to launch two big projects in a first phase: a mobile hospital and a demining project.
The former would respond to the "huge demand" on occupied territories where hospitals have been destroyed and "people are suffering and dying" due to a lack of access to first aid, noted Inna. The idea is to set up a big bus with a mini hospital inside, supported by a smaller bus that could act as a dental practice, as well as technical equipment and a couple of vehicles to transport patients. LUkraine asbl plans to hire a team, composed mainly of volunteers but also doctors from Luxembourg or elsewhere in Europe; the team would change every two months. Currently, the non-profit is working to secure enough funding to buy a bus and install the necessary equipment.
The second project, in collaboration with the State Emergency Service, would respond to the reality that about 30% of Ukraine's territory has been mined. Inna noted that this was a question of "people's lives and food security", since Ukraine is a significant food producer globally and a lot of fields have been mined. LUkraine asbl is currently in talks with various big car brands to see if they will supply the vehicles, as well as its British partner Venari Group which would armour the vehicles and fit them with special equipment like drones.
Later on, with more funding, LUkraine asbl would like to launch a project offering much-needed psychological assistance to people in Ukraine suffering from PTSD.