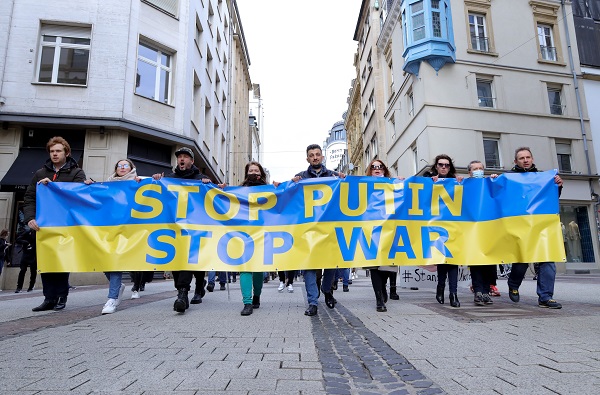 Anti-war protest organised by LUkraine asbl in Luxembourg City on 24 February 2022; Credit: Ali Sahib
LUkraine asbl has launched a petition calling on the Chamber of Deputies (Luxembourg's parliament) to declare Russia a terrorist state.
The petitioners are asking the Chamber of Deputies to declare, in the form of a resolution, the Russian Federation a state sponsor of terrorism amid its war of aggression against Ukraine.
According to LUkraine asbl, Russia has committed the following acts of terrorism since 24 February 2022: invading and occupying territories of Ukraine; bombing civilian houses as well as hospitals, schools, theatres and other civil infrastructure; the intentional killing of prisoners of war; raping and killing women and children in the occupied territories; looting houses in the occupied territories.
Speaking to Chronicle.lu about why this petition matters, LUkraine asbl Vice President Inna Yaremenko explained: "In the past eight months, the Russians have committed a full set of international crimes listed in the Rome Statute: genocide, crimes against humanity, war crimes, crimes of aggression and a large number of terrorist acts". She elaborated: "Terrorism is the killing of innocent people to intimidate the rest of a society or community. Russia's actions meet this definition 100%: constant missile attacks on civilians, targeted shelling of kindergartens, schools, hospitals, critical infrastructure, terror against Ukrainians in the temporarily occupied territories".
"[Vladimir] Putin's terrorist regime is a threat not only to Ukraine, but to the whole of Europe and the world. Therefore, recognising it as such is an important step towards Russia's further isolation in economic, cultural and diplomatic spheres and, as a result, towards restoration of international peace and security", Inna added, concluding: "That is why it is so important to sign this petition. If you think that this is too small of a step and will not bring any results, you are wrong... Each of us can make a difference and can have a real impact on the situation! Do it!"
LUkraine asbl has appealed to all Luxembourg residents to sign this petition and to recognise Russia as a terrorist state. At the time of writing, the petition has obtained over 870 signatures; a total of 4,500 signatures are required in order for the Chamber of Deputies to hold a public debate on the subject.