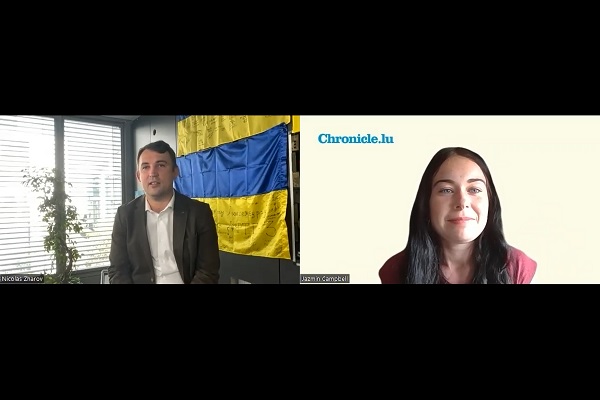 L-R: Nicolas Zharov, President of LUkraine asbl; Jazmin Campbell, journalist at Chronicle.lu; Credit: Chronicle.lu
In his most recent video interview on Chronicle.lu, Nicolas Zharov, President of LUkraine asbl, expressed the non-profit organisation's hopes for renewed support for Ukraine in Luxembourg as people return from their holidays, as well as the continued need for unity in the face of the war being waged by Russia against Ukraine.
In addition to discussing the non-profit's current hopes and priorities, Nicolas presented some of LUkraine asbl's most recent activities and shared his thoughts on rising oil and gas prices.
Recent activities & agreements
Whilst many people enjoyed a restful break from work or school, LUkraine asbl continued working "non-stop" over the summer, as it has been doing for the past six months. Recent noteworthy events include Ukraine's Independence Day on 24 August, which Nicolas described as a "really special day for Ukrainians during these hard times" and which LUkraine asbl celebrated "to show that we are still here, it is important to us to be together, to support each other". Nicolas deemed the event a success, particularly in terms of showing unity, explaining: "That's what the Independence Day is about: it's being together as a big family and support[ing] each other". Referring to the ongoing war, Nicolas noted: "It's a true fight for independence".
Nicolas also recalled that LUkraine asbl recently launched and / or strengthened various cooperation agreements with its partners in Luxembourg and Ukraine, namely with the Donetsk regional administration, the National Police of Ukraine and Artec3D, a Luxembourg-based high-tech producer of 3D scanners which has projects in Ukraine. As part of a memorandum with the Donetsk regional administration, LUkraine asbl recently sent a fire engine to the region and plans to purchase and send another one in the near future. "Being able to extinguish the fires and save people goes well with our main objective: to be able to save human lives", explained Nicolas. In addition, the non-profit is continuing its "UAmbulance" project. The LUkraine asbl President noted that fire engines and ambulances were some of the vehicles that are most needed in Ukraine at present.
Projects in development
Looking at LUkraine asbl's ongoing developments in Luxembourg, Nicolas shared that the Ukrainian School, which closed its doors during the COVID-19 pandemic, could reopen as soon as early October 2022. He described progress as being "on a good path", noting that it was still undecided whether classes would take place on Saturdays or Sundays.
Similarly, the concept of a Ukrainian hub is still in development, with the non-profit continuing to look for the right location. "It's not very easy to find a space to incorporate a hub which combines a lot of different parts and where we put the human being in the middle", explained Nicolas. Nevertheless, he felt that "the possibilities that [this hub] may provide for Luxembourgish society as well as Ukrainian society are really interesting". Elaborating on this concept, he stated: "We want to create a place where Ukrainian culture and Ukrainian society meet Luxembourgish society and it creates a common product. It's not only the place of cooperation but also the place where you meet, where you spend time, where you work, you can show yourself to Luxembourg and to the whole of Europe".
"We want to create a product in the end that will help rethink the role of a refugee […] here in Luxembourg. Instead of being an obligation, we want to create an asset. That's why we say it will be a coworking space, a space to meet, a space where we can do some theatre shows, where artists can create their masterpieces, a place of collaboration. But mostly, it will be a […] Ukrainian hub of unity", he continued. "We are really excited but there are some obstacles in front of us and we hope we will be able to [overcome] them".
Hopes & priorities
With the summer break now over (for most people) in Luxembourg, LUkraine asbl is hoping for renewed support. "We hope that people have had a good rest and they are able to help us in our initiatives to save Ukraine [and] save Ukrainian lives", noted Nicolas. "We encourage people to contact us, to donate to our projects and hopefully [support] will restart after a three-month break, because the war has not ended yet and unfortunately, it will still take some time to get to an end".
Regarding the non-profit's current priorities, Nicolas explained that LUkraine asbl has "so many directions and we try to concentrate on each of them because we do understand that the winter is coming […] and of course, we have to be prepared for the winter here in Europe but also in Ukraine, because in Ukraine, we still have a lot of places where [there is] no electricity, no gas and no water. That's a major problem and we need to deal with this".
Regarding rising energy prices and why it remains important to remain united and support Ukraine, he said: "What I hear a lot is people are saying 'because of the war in Ukraine' and I must say that is wrong; it's not because of the war in Ukraine, it's because of Russia". He also urged people to consider how much worse the situation is in Ukraine in this context: "In Ukraine, we are even on a totally different level. If people are thinking here that everything gets expensive, in Ukraine, we think that your life can […] end tomorrow or at any moment".
"So, I urge people just to compare the difficulties that they encounter and to find a good explanation, and this explanation is not the war in Ukraine but Russia as a new threat to the whole Europe", Nicolas elaborated. "The values that we have acquired in Europe for the last decades and that we have protected and promoted… we cannot [...] forget now about those values. Otherwise, it will stay only about money and if we think only about money, we just forget to be human". He added: "So, just think about those people who are fighting for their lives to be able to stay and live in their homes and to be alive. This is something which matters more than the prices for gas for some period. […] When we solve the problem with Russia, when the war has ended, I think we will find a solution. United, we can always find a solution".
Reflecting on the fact that children in Ukraine returned to school on 1 September 2022 and that many have had to resume their classes either in underground shelters or online, Nicolas said: "I wish that no children experience any of those moments. [...] I think that our future depends on those children and I want them to live a peaceful childhood and of course, to be able to finish school". He recalled that over 2,000 schools are now being declared as non-functional due to the bombings in Ukraine. "We'll definitely work to rebuild them after the end of the war", he added. "Because Ukraine is quite an educated nation. I think if we take the number of universities and institutes in Ukraine, it's one of the highest numbers in eastern Europe and we want to keep this position in Europe, because we do understand that education is very important for our future".
"I wish that in the Luxembourgish school system that the subject of history took a bigger part", he concluded. "Thus, the children would know what are mistakes not to be committed in the future, because I have an impression when I talk to other people that they forgot those [dark] times during the Second World War, which brings us to this subject of oil prices or gas prices. This is not the biggest price to live in peace".
Watch the full video interview below: