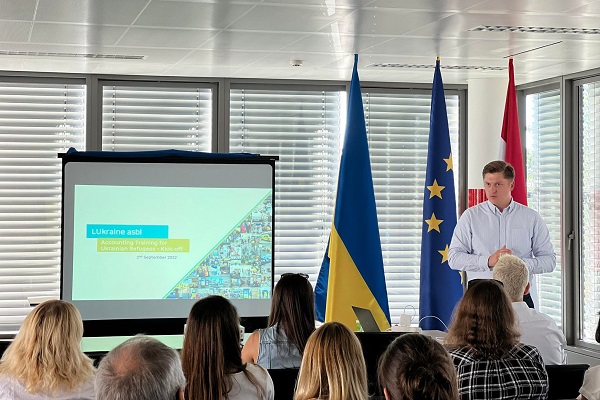 Credit: LUkraine asbl
On Friday 2 September 2022, in partnership with the House of Training, LUkraine asbl kicked off an accounting training project for a selected group of ten Ukrainian refugees in Luxembourg.
The project is designed to provide refugees with the necessary skills and knowledge to find work in the accounting field in the Grand Duchy. The non-profit organisation LUkraine asbl has described this project as important due to the fact that many refugees are highly skilled professionals but are unable to find work in their respective fields due to a lack of specific knowledge or professional certification. With this project, the non-profit aims to help refugees find work and rebuild their lives.
"According to the recent stats published by ADEM, accounting professions are the most demanded and there is a clear shortage of talent on the market", said LUkraine asbl Project Lead and LetzCompare.lu founder Oleksandr Petrykov. "With many Ukrainian refugees having a vast accounting and finance background it would be a wasted opportunity not to utilise these talents by the local companies".
The main objective of this programme is to provide participants with professional training on Lux Gaap methodology and SAGE Bob-50, with further official certification.
"When LUkraine asbl contacted us, we immediately responded positively. Indeed, the programme as designed in this project allows updating existing skills in combination with learning new skills. The House of Training works every day to realise this kind of upskilling and reskilling programmes", said Stefano Paletta, Business Manager for Cross-Sectoral Skills at House of Training. "We will see after the first phase of the programme how we can further support the LUkraine initiative in terms of training. It is possible that after the joint course the participants can deepen certain topics by selecting specific trainings from our catalogue".
In addition to professional training, LUkraine asbl has partnered up with five coaches to provide further support in the job search and personal development process for its selected trainees.
"On average, our candidates have seventeen years of experience in their professional domain. Therefore, there is no doubt in their professional skills", explained Oleksandr Petrykov. "However, employers in Luxembourg are also paying closer attention to the soft skills of the prospective candidates, a domain often overlooked in Ukrainian work culture. Therefore, we are extremely delighted to work with five professional coaches whose experience will help to unlock the potential and highlight strong sides of our people".
The training project, which receives financial support from the Brussels-based King Baudouin Foundation, is set to finish by the end of September 2022 and will see ten accounting professionals graduate, better prepared for the local job market.